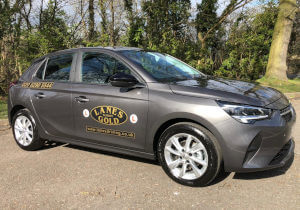 Located on the Watford DC line and bordered by the A205 and A20, Honor Oak is frequently visited by residents throughout the south east. Home to One Tree Hill, a seven-hectare public park and nature reserve, the residential location holds onto its history, dating back to 1602. Since then, a series of housing developments began, soon to be home to footballer Ian Wright and singer Gabrielle.
Driving Lessons in Honor Oak, London, SE23
When it comes to learning to drive in Honor Oak, there is only one team for the job, and that's us here at Lanes School of Driving. Having been established in 1914, we have had a humbling century of experience in successfully tutoring and passing pupils.
Every learner is different with a range of personal requirements, requests and strengths, and so each of our courses are fully tailorable. These include, but are not limited to, our intensive crashcourses, theory training and After Pass courses.
Our fully qualified driving instructors utilise their expertise to deliver one-to-one tuition that improves confidence, knowledge and skill, guiding each pupil to the passing of their theory and practical driving tests.
Driving lessons with our adaptable Approved Driving Instructors (ADI's) are completely flexible and can be arranged to fit in with any schedule. Collection and drop-offs to chosen locations can also be arranged in our newest model vehicles, whether that be to your place of education, work or your Honor Oak home.
For more information on any of our tailorable driving courses, get in touch with our team. Give us a call on 020 8166 5678 or drop us an email at .
Want to book in your first driving lesson today? Go ahead!
Driving Instructor in Honor Oak, London, SE23
When it comes to your driving instructor in Honor Oak, the choice is in your hands. With over 40 DVSA approved ADIs, there is someone for everyone. We partner our students with the instructor best suited to their specific needs and requests, ensuring that they receive the most valuable support and guidance, resulting in a growth of comfort, knowledge and skill.
With our expanding team of qualified ADIs ready to guide Honor Oak's locals to safe driving, get in touch today and we can partner you with your very own instructor. Give us a call on 020 8166 5678 or email us at .
Female Driving Instructor in Honor Oak, London, SE23
At Lanes School of Driving, we cater for pupils of all capabilities. We understand that some students may find themselves in an anxious position when learning beside a male instructor. To provide every student in Honor Oak with an experience of ease and comfortability, we operate a Lady Lanes service, partnering students with an instructor that excels in knowledge and gentle guidance.
Each of our female driving instructors are DVSA approved, and many have even trained with us here at Lanes. With the ability to select your instructor based on your requirements and preferences, any choice will provide every student with the most calming learning experience.
To find out more about our Lady Lanes service or to arrange for your female driving instructor, give us a call on 020 8166 5678 or email us at .
Automatic Driving Instructor in Honor Oak, London, SE23
Our automatic driving lessons are available for learners who find the multitasking of a manual vehicle to be challenging or intimidating, but are still keen to gain their driving licence. We believe no pupil should miss out on the opportunity. With the newest model automatic vehicles accompanied by DVLA qualified ADIs, our automatic driving lessons in Honor Oak supply the greatest aid for students of all ages and abilities. We also find that many automatic drivers pass their tests in shorter timeframes.
To find out more about our automatic driving instructors, give us a call on 020 8166 5678 or email us at , or book in with us today!