If you want to start a new career, with full training and the ability to control the hours you work AND the money you earn – then complete this form today. Just hit SEND and we will be in touch straight away.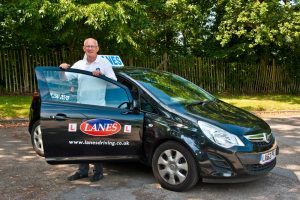 The following sets out the basic facts you need to know about Driving Instructor Training Courses and the three Driving Standards Agency exams you will need to pass to become an Approved Driving Instructor.
Legislation introduced by the government states that it is illegal for anyone to charge (either money or money's worth) for instruction in driving a motor car unless, their name is on the Register of Approved Driving Instructors, or they hold a Trainee's License to give instruction issued by the DVSA Registrar.
PART I – Multiple Choice Theory and Hazard Perception Test
This consists of 100 questions with multiple choice answers. You have ninety minutes to complete the computerised touch screen exam. The questions are banded into four main areas:
Road Procedure.
Traffic signs and signals, car control. Pedestrians, mechanical knowledge.
Driving test, disabilities, law.
Publications, Instructional Technique.
You must score at least 80% in each band with an overall score of at least 85%.
PART II- Practical Driving Test
The Part II exam covers both eyesight and driving techniques and lasts about one hour. Firstly you will be asked to read a number plate (with numbers 79.4mm high) from a distance of 20.5 metres (90 feet). You will then be required to answer five questions about daily / weekly vehicle maintenance checks.
A high standard of driving is required. You will be expected to drive on motorways, dual-carriageways, country lanes and in built up areas. You must drive safely and within the legal limits. During your drive you will be asked to perform a number of maneuvers including the following:
Stop the vehicle in an emergency.
Drive the vehicle in reverse and whilst doing so, enter limited openings to the right and left.
Reverse park the vehicle into a space behind a parked car, within the space of one and a half car lengths or park between two white lines in a designated parking bay.
Turn the vehicle to face in the opposite direction by use of forward and reverse gears.
At the end of the test the examiner will inform you of your test results.
PART III – The Test of Instructional Ability
If you fail, you are allowed as many attempts as necessary for Part I, but only three attempts each at Parts II and III. Therefore it is very important that you are thoroughly prepared before attempting any of the tests. The Driving Standards Agency recommends that you take a proper training course before you take each part of the qualifying exams.
If you are interested in a career as a qualified driving instructor and feel that our training course is the one for you, please telephone to speak to one of our friendly and helpful staff to arrange an appointment with one of our trainers.