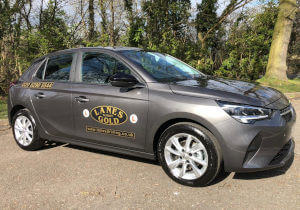 The suburban town of Beddington, situated on the outskirts of Surrey, features a reformed village dating back to the early 20th Century, as well as wooded gardens and nature reserves at Beddington Park. Accessible via the A232 and Purley Way and remaining surrounded by multiple transport links such as Wallington and Waddon (WDO) train stations, Beddington holds entrance to commuters from throughout the south east.
Driving Lessons in Beddington, Surrey, CR0
Having begun providing lessons in 1914, Lanes School of Driving are one of the UK's largest independently renowned driving schools. With one-to-one tuition provided by both male and female instructors, every pupil will be treated as an individual with lessons and courses of instruction specifically tailored to their own abilities and requirements.
Intensive crashcourses, single and block bookings, theory training and After Pass courses are all available services which are carried out by our range of qualified instructors and can be scheduled around each pupils timetable with flexibility. These lessons allow you to be picked up from, and dropped back to, your Beddington property in one of our new model automatic or manual vehicles.
Lanes School of Driving have been providing their expertise and gentle guidance to pupils learning to drive throughout Beddington, Surrey for over 100 years. To speak to one of our advisors for more information, give us a call on 020 8166 5678 or drop us an email at .
To arrange for your Beddington driving lessons and begin your journey onto the roads, book with us now.
Driving Instructor in Beddington, Surrey, CR0
With over 40 driving instructors available, many of which who have trained with us to become DVSA registered Approved Driving Instructors (ADI's), pupils have the ability to select the one who they view as best suited for their needs and requests. This instructor will then remain alongside them throughout their training experience until their driving licence is handed over.
With a team of qualified driving instructors available in Beddington who each hold experience in successfully passing pupils from 17 to 70, get in touch with our team to find yours. Call us on 020 8166 5678 or email us at .
Female Driving Instructor in Beddington, Surrey, CR0
Driving lessons can be daunting to many, and often learners can feel more comfortable alongside a female driving instructor. Here at Lanes School of Driving, we want our pupils to feel at their optimum comfort whilst learning to drive in Beddington. Our range of female driving instructors are on hand to assist in this process.
Our Beddington female driving instructors are patient, understanding and ready to take you through the process of learning to drive. As confidence grows, so does awareness and skill. Get in touch with our team by calling 020 8166 5678 or emailing .
If you're eager to get going, book your Beddington driving lessons in with us here! We are ready for you.
Automatic Driving Instructor in Beddington, Surrey, CR0
Unlike other driving schools throughout Beddington, we supply the newest model automatic cars for our pupils to learn in, partnered with a fully qualified ADI. Some pupils find it challenging to operate a manual vehicle whilst also remaining aware of their surroundings, but we believe everyone in Beddington deserves the chance to drive. Without the ability to stall and with no need for gear changes, students who utilise our automatic driving lessons, often find it to be possible to gain their drivers licence in a shorter timeframe.
To speak to our Lanes School of Driving team about the benefits of learning to drive in an automatic vehicle in Beddington, get in touch by calling 020 8166 5678 or emailing .
Can't wait to get on the road? Book in for your first lesson with us today.