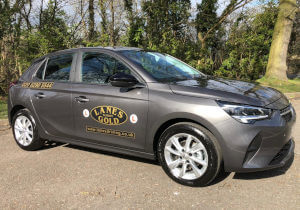 Since 1914, Lanes School of Driving has helped thousands of pupils pass their driving test. Lanes has an unbelievable reputation that guarantees a first class service and it has expanded throughout the decades to become what it is today. Our centre of excellence in driving instruction guarantees that instructors receive the very best training.
Every pupil has different needs and Lanes appreciates this. We want our pupils to succeed so we create courses that are tailored to each individual. In some cases, our pupils want to accelerate the learning process and our intensive driving courses are perfect for them. We offer theory lessons included within the practical lessons or as a separate course because some pupils like to do things differently.
Lanes is not just about learning to drive, because once you have passed your test there is more learning to be done. To help you improve your driving skills and become more confident we offer a number of different services. Our services include Advance Driving Pass Plus, Motorway Driving and Parking Skills. We care about our pupils even after they have passed their test.
Our flexibility makes us unique and this enables our pupils to book lessons that fit around their day. They can be booked regularly, every week or in single lessons – it is up to our pupils how they learn and that is what is so extraordinary about Lanes School of Driving.
Working on a one-to-one basis brings the best out of our pupils. Through building relationships and understanding our pupils, our instructors are focused on getting the best out of them which helps to improve confidence and their ability.
One element of learning to drive is feeling safe behind the wheel. To help our pupils feel more assured we have a fleet of excellent vehicles.
Our aim is to make things simple for our pupils. We can pick our pupils up before their lesson and drop them off at a chosen location. What matters to us is what happens between being picked up and dropped off because that is where the learning happens!
Driving Instructor in Bickley
Everyone has the right to learn to drive which is why we have more than 40 instructors. This makes our services accessible to all. All instructors are focused on helping pupils to learn to drive and their experience enables them to work with people of all ages. Our instructors are friendly and help nervous pupils to relax from the very first minute of their first lesson.
Our instructors are highly qualified Approved Driving Instructors and all are registered with the DSA. This guarantees that our pupils learn from instructors who care about what they do. Learning with the same instructor helps our pupils to feel at ease but also build a relationship that enhances learning. Working in this way also enables the instructor to familiarise themselves with each and every pupil.
Female Driving Instructor in Bickley
Learning to drive is an experience that should be embraced but for many it can be extremely worrying at first. Female pupils may prefer to learn with a female instructor as opposed to a male instructor as it helps them to feel more relaxed and confident behind the wheel. If our pupils prefer to learn with a female instructor then we can make that happen.
Our female instructors are fully qualified and can help to put our female pupils at easy immediately.
Automatic Driving Instructor Bickley
It is common for pupils to decide that they want to learn to drive an automatic car because they feel intimidated by manual cars and the whole process of changing gears. At Lanes if you want to learn to drive an automatic car then we are here for you.
Learning to drive in an automatic car is no problem for Lanes School of Driving. Give us a call today on 020 8166 5678 or contact us via our contact page.