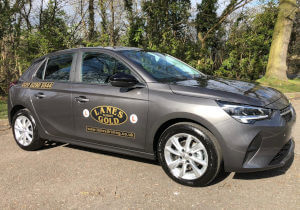 The suburban town of Cheam, located in the London Borough of Sutton, is host to a selection of retail stores and peaceful residential roads. Near the border of the M25, the town is accessible by use of the A24 and A232. Did you know, back in the 1930's, Prince Philip attended the Cheam School whilst it remained in the town and Cheam's St Dunstans Church once featured in an episode of TV comedy 'The IT Crowd'!
Driving Lessons in Cheam, Surrey, SM2
Are you thinking of taking to the seat behind the wheel? At Lanes School of Driving, we have been aiding pupils throughout Cheam in successfully learning to drive since 1914.
With multiple courses available, such as intensive crashcourses, theory training and After Pass courses, our qualified driving instructors and their successful one-to-one tuition process is guaranteed to not only improve your confidence whilst on the road, but guide you to obtaining that all important driving licence after your first driving test!
We understand that pupils schedules are often hectic. That is why lessons with any of our ADI's are completely flexible. We will work around you to ensure that you are provided with driving tuition that suits you and your lifestyle.
Speak to a member of our Lanes School of Driving team today to arrange for your driving instructor in Cheam. Chosen based on your skills, confidence and challenges, your instructor will stay with you throughout the entirety of your driving lessons, guiding you to achieving your licence whilst building your confidence on the road.
Call us on 020 8166 5678 or email us at . To kickstart your Cheam driving lessons, book online today!
Driving Instructor in Cheam, Surrey, SM2
Worried about finding a driving instructor in Cheam that's suitable to your own challenges and requirements? You needn't worry with Lanes School of Driving!
With over 40 qualified instructors, many of whom have trained with us previously to become DVSA approved ADI's (Approved Driving Instructors), we have someone for everyone.
The comfort of our pupils is paramount to us, so your designated Cheam instructor will remain alongside you until your tuition are complete, allowing you to gain confidence lesson upon lesson.
To get in touch with our team to find out more about how our qualified Cheam instructors could benefit you, give us a call on 020 8166 5678 or email us at .
Female Driving Instructor in Cheam, Surrey, SM2
It's no secret that sitting behind the wheel and taking to the road as a beginner can be a daunting challenge. For many new drivers, this worry can often increase when sat next to a male driving instructor. To eliminate this fear, we offer a service that matches our pupils with qualified female driving instructors.
Our Lady Lanes service is on hand to provide female learners with comfort whilst behind the wheel, thanks to their gentle guidance and understanding. In return, even the most apprehensive learners pass their driving tests with flying colours and heaps of confidence behind the wheel.
To arrange for your Cheam driving lessons with a female driving instructor, get in touch today. Call 020 8166 5678 or email . You can also book your lessons online right now.
Automatic Driving Instructor in Cheam, Surrey, SM2
Learning to drive doesn't always have to mean stepping behind the wheel of a manual car and learning the ways of multitasking whilst operating the clutch and gearbox. Often, this can be a challenge for drivers of any skill and pupils can find that they have greater control when driving an automatic car.
Unlike other driving schools in Cheam, we supply the newest model vehicles in both manual and automatics, allowing pupils to take their lessons in the vehicle type of their choice. Many automatic drivers in Cheam also found that they were able to obtain their licence in a shorter timeframe than those within a manual vehicle.
To find out more about our automatic driving lessons, get in touch with our Lanes School of Driving team today by calling 020 8166 5678 or emailing .
Why wait? Kickstart your automatic driving lessons in Cheam today by booking now!