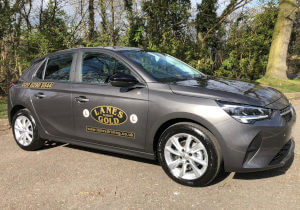 Lanes School of Driving first began operating in 1914 and in a short period of time it has grown to become one of the best in the area. It is now also regarded as one of the most reputable Centres for excellence in driving instruction.
Lanes prides itself on recognising the needs of every individual and we are experts in tailoring courses and lessons each to the needs of every pupil. For those who want to learn quickly our intensive driving courses are the ideal solution. We ensure that every pupil has access to theory lessons, either as part of their practical lessons or via a specific course.
To help our pupils further their driving skills we have additional lessons available. These are Advanced Driving, Pass Plus, Motorway Driving and Parking skills. We are always thinking about the safety of our pupils.
At Lanes we appreciate that our pupils lead hectic lives. This is where we work flexibly so that our pupils can arrange lessons around their busy schedules. To add to this, we also allow them to take their lessons as part of a regular weekly course or as individual lessons.
Our instructors focus on the pupils to ensure that they receive tuition that targets their needs. This means that pupils receive their undivided attention allowing them to really maximize their time learning.
As part of our fleet we have a number of exciting cars that our pupils love to learn in. Our pupils really benefit from quality, comfortable vehicles.
Lessons can start from a location that suits our pupils and they can be returned to a destination of their choice following the lesson.
Driving Instructor in Chelsfield
With over 40 driving instructors available, pupils can be sure to find an instructor that works for them. Our instructors have the ability to work with pupils of any age ranging from17 to 70. Those pupils who may feel apprehensive or nervous will instantly feel relaxed and reassured by the experience of our instructors.
All of our instructors are qualified as Approved Driving Instructions and all are registered with the DSA. To ensure our pupils receive a consistent learning experience they will be taught by the same instructor throughout. This will ensure that a solid relationship is formed that will enhance their experience.
Female Driving Instructor in Chelsfield
 It is common for people to feel nervous when they begin to learn to drive. For those female pupils who are anxious, having a female instructor can help to put them at ease. If pupils prefer to use a female instructor then we can facilitate that request.
All of our female driving instructors are professional and friendly and they do their best to take the pressure and stress off pupils.
Automatic Driving Instructor in Chelsfield
A number of pupils choose to have their lessons in an automatic vehicle. Those who drive manual cars believe that manual cars come with more control.
However, for those who feel that manual cars are hard work to drive, automatic cars are the perfect alternative. For those who learn to drive in an automatic car, they tend to pass at a faster rate.
Lanes School of Driving offers a number of automatic driving instructions in Chelsfield. Call us today on 020 8166 5678 or contact us via our contact page.