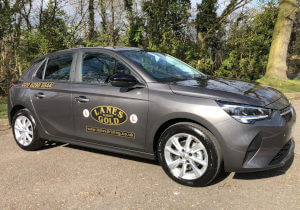 The small residential town of Colliers Wood is home to a popular high street, National Trust-owned Wandle Park and a London Underground station that carries residents into London. Based on the A24, the major road follows the route of the Northern Line above ground, taking residents both in and out of London smoothly. The town is also the proud founding location of Colliers Wood United F.C, although the team has now moved to New Malden, just a 22-minute drive away.
Driving Lessons in Colliers Wood, London, SW19
Since 1914, Lanes School of Driving has been successfully guiding pupils through the process of learning to drive in Colliers Wood with a one-to-one tuition. With the ability to match with a driving instructor of your choice based upon your strengths, challenges and requirements, our pupils find that their confidence grows lesson after lesson. Pupils also have the ability to book their lessons around their own busy schedules, our ADIs (Approved Driving Instructors) will simply fit in with you. As well as tailored driving instructors, we provide a range of tailored courses in Colliers Wood.
These tailored courses are available for drivers of all abilities and ages, from learners through to qualified drivers, no matter if you're 17 or 70 years old. Our most popular courses include:
Having over a humbling century of experience in successfully passing our pupils, our team are ever growing and ready to guide you into the world of safe driving. Get in touch with us today to find out more about our driving lessons in Colliers Wood by calling 020 8166 5678 or emailing .
You can also proceed with the booking of your lessons here.
Driving Instructor in Colliers Wood, London, SW19
If you are looking for the right driving instructor for you, you need not look any further. With a team of over 40 driving instructors, many of whom have trained with us to become qualified DVSA ADIs, we have someone for everyone, no matter your requirements.
With the ability to learn in the newest model vehicles in both automatic and manual lessons, you can feel at ease when taking to the roads with our team. Collection and drop off to your Colliers Wood property, school or workplace is also available, allowing you to drive with ease whilst having your mind focused solely on the journey ahead.
Throughout your lessons, your instructor will remain alongside you, allowing a connection to form whilst your confidence grows. To find the best suited driving instructor for your lessons in Colliers Wood, get in touch today. Call us on 020 8166 5678 or email us at .
Female Driving Instructor in Colliers Wood, London, SW19
When it comes to sitting behind the wheel for the first time, there will inevitably be students who feel apprehensive or nervous, some more than others. This is only natural, but to eliminate this worry amongst our pupils, we supply a female driving instructor service, otherwise known as Lady Lanes.
With gentle guidance and calm instruction for the entirety of their learning experience, our qualified female driving instructors have been able to pass even the most fearful of first-time learners through their Colliers Wood driving test.
To speak with our team to find out more information on our Lady Lanes driving service in Colliers Wood, give us a call on 020 8166 5678 or email us at .
You can also book your lessons with us online.
Automatic Driving Instructor in Cheam, Surrey, SM2
Unlike other driving schools in Colliers Wood, we provide driving lessons for pupils of all capabilities and goals. This means that we allow our pupils to carry out automatic driving lessons, in the newest model vehicles. The ability to multitask with the controls of the car, as well as keeping a watchful eye on the road and surroundings is a task that can often be intimidating for some learner drivers. We don't believe in giving pupils one option, so our automatic driving lesson service allows everyone the chance to get onto the roads in Colliers Wood safely.
To kickstart your automatic driving lessons in Colliers Wood, give us a call on 020 8166 5678 or email us at .
Book in for your driving lessons with Lanes School of Driving today!