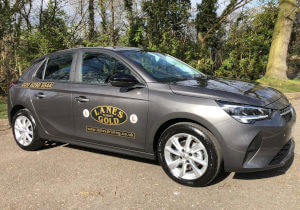 South London neighbourhood Gipsy Hill, recognised for its expansive views of Central London and Dulwich, is a green, residential location. Home to a main high street, as well as a handful of schools and churches, and with links from its national rail station to London Bridge, London Victoria and Beckenham Junction, it remains a popular stop-off location for residents throughout the south east. On the outskirts of Crystal Palace, Gipsy Hill is bordered by the A2199 and A214. It could also be an ideal location for celeb spotting, with residents such as presenter Kate Thornton, rappers Krept & Konan and designer Patrick Grant!
Driving Lessons in Gipsy Hill, London, SE27
When it comes to taking to the roads of Gipsy Hill, you will want to depend on a driving school that you can trust. With over a century of experience in successfully passing pupils of all ages, from 17 to 70, that could be us. Here at Lanes School of Driving, we have a range of tailorable courses available, including – but not limited to – intensive crashcourses, theory training and After Pass courses.
Each individual learner will receive one-to-one tuition tailored to their personal requirements, requests and preferences. Their chosen Approved Driving Instructor (ADI) will remain alongside them, ensuring they receive the most valuable lessons, working on specific areas of difficulty, allowing them to achieve a first-time pass at both their theory and practical driving tests.
Our ADIs are fully adaptable, just like our driving lessons. If your schedule is hectic, there's no need to worry. We will fit in around you and your diary, providing beneficial one-on-one tutorials at a time that best suits each pupil. We can arrange your route to ensure you are collected and dropped-off at the location of your choice, from your place of education, workplace or Gipsy Hill home. You can also guarantee to learn in the newest model vehicles, whether you opt for automatic or manual lessons.
Get in touch with our team at Lanes School of Driving today to find out more about our tailorable driving courses, our new model vehicles or our DVSA approved ADI's. You can reach us by calling 020 8166 5678 or emailing .
You can also book your first Gipsy Hill driving lesson in with us today.
Driving Instructor in Gipsy Hill, London, SE27
At Lanes School of Driving, we have an instructor for everyone. With over 40 qualified Approved Driving Instructors (ADI's), we can partner you with one best suited to your abilities, requirements and requests. They will then remain alongside you throughout the course of your driving lessons, guiding you through your theory and practical tests – possibly even with a first-time pass!
To find the instructor that's right for you in Gipsy Hill, get in touch with us today by calling 020 8166 5678 or emailing us at .
Female Driving Instructor in Gipsy Hill, London, SE27
Learning to drive can be an empowering experience, but we often find that some pupils worry when partnered with a male instructor. That is why we created the sub-division of our company, Lady Lanes, allowing our students to learn to drive beside a fully qualified female ADI. With gentle guidance and a calm, patient approach, our instructors allow our students to grow in confidence and knowledge, ensuring that they can navigate the roads of Gipsy Hill safely.
With a selection available, each learner is able to be partnered with the female driving instructor best suited to their preferences and requirements. To find out more about our Lady Lanes service, or to arrange for your lessons with a female driving instructor in Gipsy Hill, get in touch. Give us a call on 020 8166 5678 or send us an email at . Let's get you on the roads!
Automatic Driving Instructor in Gipsy Hill, London, SE27
Manual vehicles involve multitasking whilst on the road, with the risk of stalling if your clutch control isn't perfected. Automatic cars remove this factor, allowing learner drivers to focus solely on the road ahead. Unlike other driving schools in Gipsy Hill, we provide automatic driving lessons, partnered with DVSA approved automatic driving instructors, because we believe everyone should be granted the opportunity to obtain a driving licence.
To find out how our automatic driving lessons in Gipsy Hill could benefit you, get in touch with our Lanes team. Give us a call on 020 8166 5678 or email us at today. Achieve a first-time pass with our 100 years of humbling experience.