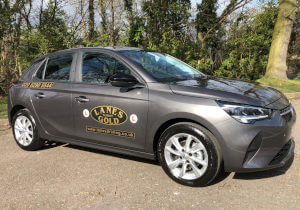 Barnehurst is in the London Borough of Bexley, found hidden between Crayford, Northumberland Heath and Bexleyheath. The popular Bluewater Shopping Centre is only a short distance away, while the other main attraction in this relatively quiet part of suburbia is the Barnehurst Golf Club, which features some stunning woodland.
The mainline British Rail station in Barnehurst takes commuters into all of the main stations in inner London, taking only 45 minutes. The A2 and M25 provide the best entry points into Barnehurst for those travelling by road.
Driving Lessons in Barnehurst, DA7
Fred Lane was the person responsible for opening Lanes School of Driving all the way back in 1914. Since 1976, Keith Paine has run the company, continuing its proud tradition of helping local drivers in Barnehurst to become some of the best drivers in the UK.
We place a heavy emphasis on the requirements of each individual driver. That allows us to tailor each lesson and course to helping them learn how to drive quickly and effectively. Everyone has their own level of ability, and we use that as our start point for every pupil.
In addition to tailoring the lessons, we are also adaptable to the circumstances of our pupils. This means making them as convenient as possible, booking in either weekly lessons, or one-off individual sessions. We even provide a pick-up and drop-off service before and after each lesson, making it easier for pupils to find the time to learn how to drive.
During each lesson you will receive the full attention of an instructor who will not be shared with any other pupil. Our fleet over 100 cars all contain the latest technology to ensure you have a relaxed experience that allows you to focus on the road and progress towards passing your driving test.
There are a wide range of driving lessons available in Barnehurst, London that can be booked today by calling 020 8166 5678 or by emailing our contact page.
Driving Instructors in Barnehurst, DA7
Not only do we teach pupils how to drive, but we also have over 100 years' experience in training driving instructors to the very highest standard. This gives our pupils total assurance they are learning from some of the best in the industry. We currently have a team of over 40 experienced tutors, who are all DSA Approved Driving Instructors.
They have all spent years on the road teaching and helping learner drivers to overcome their nerves to successfully pass their test. The bond between student and driving instructor is pivotal to our high pass success rate, as we ensure you remain learning from the same instructor from start to finish.
Get in touch with our driving instructors in Barnehurst, London today by calling 020 8166 5678 or simply email via the contact page.
Female Driving Instructors in Barnehurst, DA7
Women pupils may feel nervous and a little uncertain about learning from a male driving instructor. Learning to drive can be a nerve wracking experience at the best of times, however, if you do not feel relaxed with your instructor it can sometimes make it even more difficult.
Our friendly female driving instructors are available for bookings and provide an alternative option for any women students not wishing to use a male instructor. They are all extremely experienced and highly professional, and their years spent out on the roads of Barnehurst will ensure you quickly progress through your lessons.
You can book our female driving instructors in Barnehurst, London today by calling 020 8166 5678 or by emailing our contact page.
Automatic Driving Instructors in Barnehurst, DA7
A manual car may seem a little daunting to some learners who find the gear changes overwhelming and confusing. The good news is that Lanes provide the option to use an automatic car instead, allowing learners to concentrate on steering in a more relaxed state of mind.
Automatic cars are often preferred as pupils do not experience jerky gear changes and the car will never stall. In most cases, learners who use an automatic car find they learn faster and quickly become very comfortable behind the wheel.
Automatic driving instructors in Barnehurst, London are available today by calling 020 8166 5678 or just by emailing our contact page.