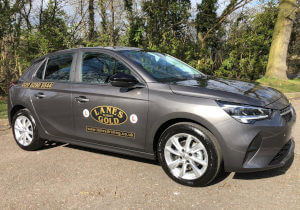 Blackfen, DA15, is situated in the south-east London borough of Bexley. The name comes from its original appearance decades ago when it was a black, marshy and largely uninhabited area. This changed in 1922 when a major redevelopment began, transforming Blacken into the district we know today.
British Rail offers the fastest route into the centre of the capital, with plenty of bus routes to get around locally also available. East Rochester Way and the A210 are the best way for anyone on the road to drive into Blackfen.
Driving Lessons in Blackfen, DA15
There are few driving instruction schools in the UK that can offer the wealth of experience Lanes School of Driving provides. For more than a century we've been teaching residents in Blackfen and the surrounding areas to pass their driving tests so they can enjoy life on the road.
Even with so much history behind us, we continue to grow all the time. We place the needs of our pupils at the forefront of our services, designing and delivering carefully tailored lessons that will benefits the lives of each individual pupil.
No matter how keen you are to drive, it's not always easy to put aside enough time to take regular lessons. That's why we remain as flexible as possible, trying our best to arrange a schedule that will suit your personal and professional life. We'll even save you time by picking you up before the lessons starts, and dropping you off when it has finished.
We have an unbeatable fleet of modern cars, all fitted out with the latest technology and essentials pupils need to drive comfortably and successfully. Students get their own dedicated instructor, ensuring their needs are always the priority during their time spent learning.
Discover why our driving lessons in Blackfen, London are so highly rated by calling us today on 020 8166 5678 or simply send an email via the contact page.
Driving Instructors in Blackfen, DA15
When pupils get in contact with Lanes, they soon discover how experienced our large team of driving instructors are. Each one has achieved the highest qualification possible, reaching the status of being a DSA Approved Driving Instructor. Many have been trained by our in-house team, receiving the best possible standards available anywhere in the UK.
Establishing a good relationship between instructor and pupil is often crucial to the success of our student's success. We place a heavy emphasis on this by ensuring you have the same instructor for every lesson. They get to know your strengths and weaknesses, helping you to quickly improve lesson by lesson.
For those who want to work with experienced driving instructors in Blackfen, London, call us today on 020 8166 5678, or email us by using the contact page.
Female Driving Instructor in Blackfen, DA15
One of the reasons we have such a strong reputation is because we listen to our pupils concerns. This applies to female drivers who may prefer to learn with a female instructor, rather than a male. We actively encourage all female pupils to make a decision that makes them feel comfortable and at ease wherever possible.
There are number of highly experienced female instructors established within our team. By removing this worry, female drivers can get on with the job of learning how to drive in an environment they feel completely confident in.
Find out more about our female driving instructors in Blackfen, London, by calling us right away on 020 8166 5678 or just email us from the contact page.
Automatic Driving Instructor in Blackfen, DA15
Manual cars are not for everyone, and for those who feel more confident behind the wheel of an automatic car, we can supply a modern and easy-to-learn vehicle to use.
While the gears in a manual guarantee more precision, it can sometimes frustrate and confuse pupils during their lessons. Automatic cars are impossible to stall and the smooth gear changes make it a straightforward experience that pupils can use to learn and progress quickly.
Automatic driving instructors in Blackfen, London, can be booked in for lessons today. Find out more and call us on 020 8166 5678 or just email via the contact page.