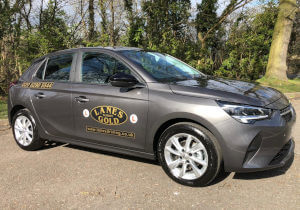 Billions of pounds are being invested into Charlton over the next few decades, revolutionising this south London area into one of the most sought-after places to live in the capital. Located nearby to the Thames, Charlton will be transformed by the construction of thousands of new homes and buildings. There has long been a village feel to Charlton, given its many beautiful green spaces including Hornfair Park, Charlton Park and Barrack Field. In terms of transport, Charlton British Rail station is only a 20 minute journey away from London Bridge. Commuters can also travel into Charing Cross, Cannon Street and Canary Wharf, if needed. The arrival of a Crossrail station will provide fast services right across London for locals. On the road, Charlton is well served by the A102, the A2 and A20.
Driving Lessons in Charlton, SE7
From its humble beginnings in 1914, Lanes School of Driving has now firmly established itself as one of the leading driving schools in the UK. Our reputation continues to grow thanks to our customers spreading the word of our flexible and affordable service to Londoners and the surrounding areas. We are passionate about driving and are proud of the standards we set for drivers out on the streets of Charlton.
We tailor our courses to meet the needs of individual students. That's because we know everyone has different requirements and they lead busy lifestyles. We believe that pupils should learn at a pace that they feel comfortable with. They are able to book one-off or weekly lessons, giving them detailed one-on-one tutelage that will ensure they pass their test successfully.
All of our cars are modern and feature the latest road technology, providing a practical and comfortable vehicle to learn in. We try to be as adaptable to our pupil's working and personal lives as possible, providing a pick-up and drop-off service before and after each lesson.
Find out why our driving lessons are always in demand in Charlton, London by calling us on 020 8166 5678 or simply send an email via the contact page.
Driving Instructors in Charlton, SE7
We want our pupils to feel at ease with our instructors and because each one is registered as a DSA Approved Driving Instructor, they will have every confidence they are in safe hands.
Many of our driving instructors have received their full training from us. This means they have been given some of the best training available in the UK today. We always try to ensure our pupils continue to learn from the same instructor throughout their course, as from our experience, it helps students progress at a faster rate.
Our team of driving instructors in Charlton, London are waiting to hear from you today on 020 8166 5678 or email us via the contact page.
Female Driving Instructors in Charlton, SE7
If our female pupils do not feel confident being paired with a male instructor, we can provide a female driving instructor instead. We understand that some women feel more at ease with a female instructor and we want them to be comfortable and relaxed at all times.
Putting the needs of our female pupils first is a priority for us and we are happy to help if it means they do not feel under pressure when learning to drive. This will ensure they make faster progress and pass their test a lot sooner.
We have many female driving instructors in Charlton, London, available to work with right now, and you can find out more by calling 020 8166 5678 or emailing via the contact page.
Automatic Driving Instructors in Charlton, SE7
Some students prefer to learn how to drive in an automatic car instead of a manual vehicle. To give them greater flexibility, we provide the option to use an automatic car so pupils have greater control and can focus on steering and driving on the road.
Many beginners tend to stall a manual car. An automatic instantly removes that problem as they cannot be stalled. It helps to create a less stressful experience and reduces anxiety or concerns about forgetting to change gears at the right time.
To find out about our automatic driving instructors in Charlton, London, contact our team on 020 8166 5678 or send us an email via the contact page.