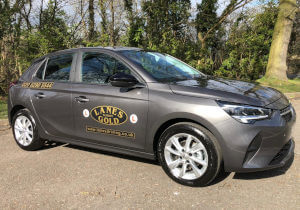 Kidbrooke is a district in south-east London, located in the borough of Greenwich. Like many of the surrounding areas, it is filled with expansive parkland that locals and those living nearby get to enjoy. Kidbrooke has Anglo Saxon roots and means "the brook where the kites were seen".
Kidbrooke National Rail station connects residents to London Bridge in only 25 minutes. While a short journey to nearby Lewisham opens up access to the DLR. The A2 travels through the north and west of Kidbrooke, while drivers can also use the A207 to find their way into the area.
Driving Lessons in Kidbrooke, SE3
Lanes School of Driving are proud of our reputation as a centre of driving instruction excellence, not just in Kidbrooke, but right across the UK. Our name stretches back across over 100 years, helping drivers in Kidbrooke to take to the road.
We have a wide range of lessons available for all our pupils, as we are aware that needs are different for everyone. They can choose intensive driving lessons, or even incorporate theory into ongoing weekly lessons. If a separate course is preferred, we can arrange that too.
After-pass courses available include: Pass Plus, Advanced Driving, Parking Skills and Motorway Driving. These help students fine-tune aspects of their driving ability after they have successfully passed their test.
Our pupils are also in control, including deciding their own driving schedule. From one-off lessons to weekly lessons, we encourage them to find a routine that best suits their lives.
All of our cars are the latest models and come complete with all the technology and comforts students need to feel confident. We focus on one-on-one tuition, ensuring pupils get the full attention of a single instructor all the time.
Pupils can also let us know if they need to be picked up and dropped off before and after lessons, and we'll make sure it happens.
Find out why our driving lessons in Kidbrooke, London are so in demand by calling us today on 020 8166 5678 or send us an email via the contact page.
Driving Instructors in Kidbrooke, SE3
Pupils can have complete confidence in our instructors as they are all DSA registered, which means they are officially recognised as Approved Driving Instructors. Pupils have the chance to pick from over 40 highly experienced instructors, making sure they feel comfortable and relaxed while learning.
Each instructor has spent years working with a wide range of age groups. We make sure you remain learning with your preferred instructor from beginning to end, helping you to learn faster so you can pass your test as quickly as possible.
Lanes' driving instructors in Kidbrooke, London can be booked today by calling 020 8166 5678, or by emailing us via the contact page.
Female Driving Instructors in Kidbrooke, SE3
It's not uncommon for first time pupils to feel nervous and self-conscious during their driving lesson. Understandably, some female students prefer not to learn from a male instructor. The good news is all our female pupils get to choose to learn from a woman instructor if they prefer.
Our experienced female instructors can empathise with your concerns and are trained to put you at ease. They will be with you every step of the way to help you successfully achieve your driving goals.
Lanes' female driving instructors in Kidbrooke, London, are available right now, and you can find out more straight away by calling 020 8166 5678 or just email from the contact page.
Automatic Driving Instructors in Kidbrooke, SE3
While manual cars provide a greater level of control for some pupils, others prefer to learn in an automatic car as there are fewer things to remember while driving.
Not only will automatic cars never stall, there are fewer gears to change, allowing pupils to focus on the road and learning from their instructor. All of our automatic cars are modern, clean and comfortable, and will help you progress through your lessons faster than a manual.
Automatic driving instructors in Kidbrooke, London, can be booked in for lessons today. Find out more and call us on 020 8166 5678 or just email via the contact page.