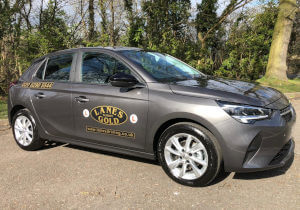 Norbury is home to a vibrant community in south-west London, located nearby to Crystal Palace, Streatham and Dulwich. It's a part of London suburbia that was once well known for holding horse racing meetings near London, with people coming from far and wide to participate.
Trains travel from Norbury station into London Victoria every 10-15 minutes, taking only 20 minutes to reach their destination. Green Lane runs through the heart of Norbury, also connecting drivers to Streatham and Crystal Palace.
Driving Lessons in Norbury, SW16
Generation after generation have been able to enjoy Lanes School of Driving's instruction techniques since 1914. No other company can compare with such a rich history and dedication to improving driving skills out on the UK roads.
Every driver begins a course for different reasons and that's why we treat them as individuals. There is no one-size-fits-all solution, and if they wish, intensive driving courses are available for those who want a faster route of progression. You can also take theory lessons with practical instruction, or study it as its own course.
Once pupils have passed their driving test they can try out our after-pass courses like Motorway Driving, Advanced Driving, Pass Plus and Parking Skills. They provide a great way to further fine tune one's abilities.
Lessons can be booked whenever our students need, giving them the flexibility to arrange their instruction around their personal commitments. This means either occasional, or weekly, lessons can be booked as required. However, bear in mind that block bookings do offer a good bonus discount.
Students will not have to share the attention of their instructor with anyone else, enabling them to progress quickly towards their driving goals. A pick-up and drop-off service is also available before and after lessons which take place in a modern and comfortable car that provides a flawless experience.
You can find out all about driving lessons in Norbury, London today by calling 020 8166 5678 or sending us an email from the contact page.
Driving Instructors in Norbury, SW16
We a team of over 40 highly experienced driving instructors available, Lanes provide the most comprehensive learning facilities in the UK. Pupils can select the instructor they feel most comfortable with. Whether pupils are 17 or 70, our driving instructors have helped every age group out there on the road.
As well as being DSA registered, all of our instructors are fully qualified as Approved Driving Instructors. Students continue to work and learn from the same instructor from the first lesson until the last, helping them progress quickly and efficiently.
Get access to our team of driving instructors in Norbury, London today. Simply call us today on 020 8166 5678 or email via the contact page.
Female Driving Instructors in Norbury, SW16
If any female student is uncertain about learning from a male driving instructor, they can choose to work with a woman instructor instead. Good driving comes from feeling relaxed and in control and we want our female pupils to always feel that way when learning with Lanes.
Our female driving instructors are friendly and reassuring, providing all the support female pupils need to feel at ease and ready to progress with their lessons.
Our female driving instructors in Norbury, London are waiting to hear from you today on 020 8166 5678 or email them via the contact page.
Automatic Driving Instructors in Norbury, SW16
A manual car offers more control but can increase stress levels and uncertainty for pupils who are not used to the set-up. That's why we offer the alternative of learning in an automatic, which provides a simpler experience.
An automatic removes complications and lets beginners focus on steering and control of the car. Many pupils tend to opt for an automatic car as it helps them learn at a faster rate.
We have a fantastic selection of automatic driving instructors in Norbury, London. Get in touch today on 020 8166 5678 or send us an email using the contact page.