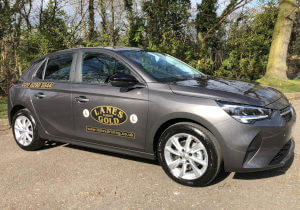 Located in the London Borough of Woolwich, Plumstead is home to Plumstead Common, which can be found at the heart of this well-loved town. Its name means "the place where the plums grow", due to its history of fishing and agriculture. It is now known for its multi-cultural community and provides a wealth of transportation links.
The mainline railway connects Plumstead to central London, while a river taxi stop and a DLR station can also be found nearby. Once the Crossrail station is opened it will see locals enjoy a high-speed link right across London. Anyone wanting to travel into Plumstead by car can do so by using the A1270.
Driving Lessons in Plumstead, SE18
For over 100 years, Lanes School of Driving has been providing professional driving lessons to people in Plumstead and the surrounding areas. It's part of the reason why we are seen as one of the leading driving schools not just in London, but the whole of the UK.
We understand that every driver has different needs. That's why we ensure each set of courses are tailored to the requirements of the individual. This enables us to provide intensive driving lessons, along with theory lessons in conjunction with either practical lessons, or as a course by itself.
One of the main reasons why so many pupils love our approach is because we put them in control from the beginning. Pupils set their own schedule, meaning they can choose individual one-off lessons, or pay for regular weekly lessons to learn at their own speed.
The selection of cars used during lessons are modern and full-equipped with all the tools pupils will need to drive successfully on the road. We allocate one instructor to each pupil, which allows them to benefit from their years of experience helping people to learn how to drive.
Of course, even when they have passed their driving test there is still more to learn and improve. That's why we supply after-pass courses to help fine tune the skills of experienced drivers. These include courses such as Advanced Driving, Motorway Driving, Pass Plus and Parking Skills.
Our instructors adopt a flexible approach to support their pupils wherever possible. This includes picking them up from their homes at the start of each lesson, before dropping them off once they are finished.
You can discover more about our full range of driving lessons in Plumstead, London by calling us today on 020 8166 5678 or sending an email via the contact page.
Driving Instructors in Plumstead, SE18
With over 40 driving instructors to choose from, students are able to select the right one to suit their personality and ability. No matter what age bracket pupils fall into, our instructors will work closely with pupils to put them at ease in front of the wheel.
All of our instructors are registered with the DSA as an Approved Driving Instructor. From their first lesson until the last, we make sure they keep learning with the same instructor, moving them forward towards their end goal.
Lanes have a comprehensive team of driving instructors available in Plumstead, London right now. Please call us today on 020 8166 5678 or send us an email via the contact page.
Female Driving Instructors in Plumstead, SE18
We understand that some female drivers may not feel comfortable learning with a male driving instructor. To make things easier, Lanes offers female students the chance to pick a female instructor to learn from instead.
All of our female driving instructors have years of experience teaching female pupils. They know how to calm their nerves so they can gain confidence out on the road.
To find out more about our female driving instructors in Plumstead, London you can call us right now on 020 8166 5678 or send us an email via the contact page.
Automatic Driving Instructors in Plumstead, SE18
Not every pupil enjoys driving a manual car. That's why we allow our pupils to choose an automatic car to make them feel more in control of the vehicle.
Automatic cars are easier to control for some drivers, especially beginners. There is less to remember when driving an automatic car, making the experience more straightforward. Automatic cars never stall and pupils tend to progress at a faster rate compared to a manual alternative.
We have a fantastic selection of automatic driving instructors in Plumstead, London. Get in touch today on 020 8166 5678 or send us an email using the contact page.