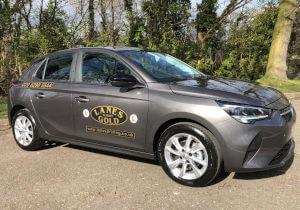 Situated close to edge of the London Borough of Croydon is South Norwood. The south-east London district features a 125-acre park which first opened in 1989. South Norwood Lake can also be found nearby, another relatively new creation after the failure of the Croydon Canal.
There are as many as eight British Rail trains an hour from Norwood Junction heading into London Bridge or London Victoria. Alternatively, Overground takes commuters into Canada Water or Shoreditch in east London. The A222 or the A212 offer the best routes for motorists on the road.
Driving Lessons in South Norwood SE25
Ever since 1914, Lanes School of Driving have been helping the people of South Norwood to learn how to drive. Our reputation in the local community is second to none, with thousands of drivers having successfully passed their tests thanks to our help.
Whether you need a separate intensive driving course, or theory lessons integrated into your practical, we make sure everything is tailored exactly to your needs. For those who have already passed their test and are looking for further instruction, we have additional courses available such as Parking Skills, Motorway Driving, Advanced Driving and Pass Plus.
We adapt to the requirements of our pupils, allowing them to book lessons individually or on a weekly basis. For anyone booking block lessons there are also discounts available.
One-on-one lessons are the cornerstone of our success. That ensures students do not share instructors with anyone else so they get their undivided attention.
Our drivers can also pick -up pupils before the lesson, and drop them off at any location of their choosing, making it easier for them to find a time that suits their schedule.
Discover more about our driving lessons in South Norwood, London right now by calling 020 8166 5678 or send an email from the contact page.
Driving Instructors in South Norwood SE25
Pupils using Lanes get instant access to over 40 highly experienced driving instructors. Their years spent on the road has helped learners of all age groups, giving them the confidence to overcome their nerves to progress towards passing their test.
As DSA registered Approved Driving Instructors, you can have complete confidence that you will be learning from the best. You always work with the same instructor in every lesson, ensuring you progress towards achieving your driving goals much quicker.
Learn more about our team of driving instructors in South Norwood, London today. Call us today on 020 8166 5678 or just email via the contact page.
Female Driving Instructors in South Norwood SE25
For any female drivers who are unsure about learning from a male instructor, we offer them the choice to work with a female driving instructor. This will help them manage their nerves to feel more comfortable and relaxed behind the wheel.
All of our female driving instructors have years of experience and have helped thousands of female pupils to pass their tests. They will remain working with same instructor throughout so they can progress without any issue.
Lanes' female driving instructors in South Norwood, London are available for bookings today on 020 8166 5678 or simply email them via the contact page.
Automatic Driving Instructors in South Norwood SE25
Automatic cars can seem less daunting to learn in compared to manual vehicles. This is because they cannot stall and are less complicated to drive. For anyone who wants to learn in an automatic car, we have a range of modern vehicles to choose from.
Pupils are more likely to feel relaxed and more confident when driving an automatic car. This allows them to make faster progress towards passing their driving test.
Find out more about our selection of automatic driving instructors in South Norwood, London. Call us today on 020 8166 5678 or email using the contact page.