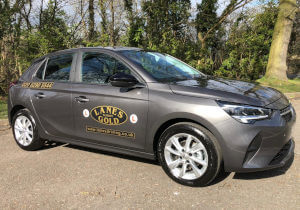 St Mary Cray in south-east London was once one of the busiest industrial districts in Kent during the Middle Ages. Its industrial history is long and proud, with the area once again becoming a centre for manufacturing during the 50s and 60s.
The area is situated close to the outskirts of London in zone 6. Trains run from St Mary Cray station into London Victoria via Bromley South, while also connecting locals directly to Ashford International. The best routes offered by road into St Mary Cray are the B258 and the A232.
Driving Lessons in St Mary Cray, BR5
It has been over 100 years since Lanes School of Driving first opened our doors. Back in 1914 we began helping pupils to learn how to drive, and ever since we have grown into one of the largest independent driving schools in the UK. However, we have never lost touch with the principles Fred Lane founded the company on, with our pupils remaining the focus of our attention at all times.
Everyone has busy lives and we understand it can be difficult to find enough time for driving lessons. That's why we are as flexible as possible to accommodate people's hectic lifestyles by creating a flexible schedule that suits them. Let us know if you need single lessons or weekly sessions and we'll do the rest. We'll even pick you up and drop you off after each lesson, if required.
With a fleet of over 100 cars, you can be sure that your vehicle will provide all the comfort and technology you need to learn quickly and effectively. We also provide a guarantee that every student will spend time with the same instructor in a one-on-one environment. This ensures you get their full attention so you can benefit from their experience and guidance.
Discover our driving lessons that are available in St Mary Cray, London today by calling 020 8166 5678 or simple email our contact page.
Driving Instructors in St Mary Cray, BR5
When you get into a Lanes car, you are sitting inside a vehicle that is being guided by one of the most experienced instructors in St Mary Cray. As DSA Approved Driving Instructors, all of our team members have years of knowledge and expertise ready to be passed on to you. They have dealt with every possible scenario out on the road, and can keep even the most nervous of learners at ease.
We want you to develop a strong understanding with the instructor to create an environment conducive to learning. It will help you quickly gain confidence behind the wheel and allow you to take the advice being given on board more effectively. By trusting in the instructor, your concentration levels will be higher as you set about learning on the roads of St Mary Cray.
Find out all about our driving instructors in St Mary Cray, London today by calling 020 8166 5678 or email us on the contact page.
Female Driving Instructors in St Mary Cray, BR5
If you are a female pupil feeling nervous about learning from a male instructor, you always have the option to work with a female driving instructor if you prefer. Learning how to drive takes mental strength and stamina and if you do not feel comfortable with your instructor, it can make the process even more challenging.
All of our female driving instructors will work at a pace you are comfortable with. Their aim is to make you feel more relaxed behind the wheel, helping to calm your nerves and gain confidence. Simply let us know if you want to work with a female instructor and we'll arrange it for you.
You can book our female driving instructors in St Mary Cray, London today by calling 020 8166 5678 or by emailing our contact page.
Automatic Driving Instructors in St Mary Cray, BR5
Not every learner wants to use a manual car during their lessons. This can be for a number of reasons. Perhaps the gear changes are too daunting. Or they are scared of stalling the car out in traffic. Whatever the reason, we can arrange for you to use an automatic car anytime you need.
While manual cars do provide more control, automatic vehicles will never stall which means learners will not be stuck nervously in the middle of the road. They also provide a smoother ride, putting pupils in control and many progress rapidly towards their driving test as a result.
Automatic driving instructors in St Mary Cray, London can be booked right now by calling 020 8166 5678 or by emailing the contact page.