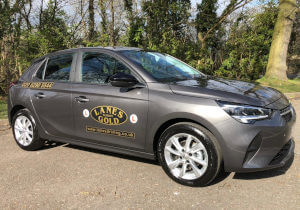 Thamesmead, SE28 was gradually developed from the mid-60s through to the 80s, with the area initially divided into sectors for accommodation and commerce. It sits nearby by the River Thames in the borough of Woolwich and features the Crossness Pumping Station, a now defunct Victorian sewage treatment plant. There are plenty of green spaces for locals to enjoy in Thamesmead, including Plumstead Gardens, Birchmere Park, Broadwater Green and Lesnes Abbey Woods.
Thousands of new homes are being planned in Thamesmead, as part of a wider regeneration of the area. A Thamesmead DLR extension could also be built, as presently there the area does not feature its own tube or British Rail station. Drivers can use the A2041, or the Eastern or Western Way to journey into its centre.
Driving Lessons in Thamesmead, SE28
Lanes School of Driving have been helping people to drive in Thamesmead for over 100 years. Since opening in 1914, thousands of locals have used our services to improve their personal and business lives, benefiting from our commitment to providing the very best driving lessons in Thamesmead.
One of the mains reasons for our success is that our pupil's needs remain at the heart of everything we do. This starts from the moment they get in touch, allowing us to create bespoke driving lessons to meet the exact needs of the individual. Whether pupils want intensive driving lessons, practical or theory instruction, we have something to suit.
After pupils have passed their test they can continue to learn with Lanes. Additional after-pass courses are available, including Motorway Driving, Advanced Driving, Parking Skills and Pass Plus.
We understand that our students lead busy personal and professional lives. Our flexibility enables them plan a schedule that matches their lifestyle. While we recommend weekly lessons as the most effective way to reach pass a test, they can also choose one-off, individual lessons if preferred.
In order to help pupil's progress lesson-by-lesson, we are committed to developing a strong instructor-pupil bond. This means students are guaranteed one-on-one instruction every time.
All of our cars are clean, modern and equipped with all the tools our pupils need to feel relaxed and comfortable driving in Thamesmead. If needed, pupils can be collected at the start of each lesson, before being dropped back to a destination of choice once it has finished.
Contact us today to find out more about our range of driving lessons in Thamesmead, London by calling us on 020 8166 5678 or sending an email via the contact page.
Driving Instructors in Thamesmead, SE28
We have over 40 experienced driving instructors, who each have years of knowledge waiting to be passed on. This enables us to match pupils with the instructor who meets their requirements. They are calm and reassuring, and are always there to support pupils from the first lesson right through to successfully passing their driving test.
Our driving instructors are all registered with the DSA, and are fully qualified as Approved Driving instructors. We ensure our pupils continue to work with the same driving instructor from lesson-to-lesson, helping them to learn and grow towards their goals.
Find out what our team of driving instructors in Thamesmead, London can do for you today by calling 020 8166 5678 or sending us an email via the contact page.
Female Driving Instructors in Thamesmead, SE28
At Lanes we do everything possible to put our pupils at ease. This is especially true for female drivers who may not feel comfortable at the prospect of learning from a male driving instructor. That's why students using Lanes can choose to work with one of our female instructors as an alternative.
Their years of experience on the road puts female pupils at ease to feel relaxed and confident. They never place any pressure onto students, enabling them to learn at a pace that suits them.
Our female driving instructors in Thamesmead, London, are available to work with right now, and you can find out more by calling us on 020 8166 5678 or sending an email via the contact page.
Automatic Driving Instructors in Thamesmead, SE28
For pupils who prefer to use an automatic car instead of a manual, pupils learning with Lanes can choose to use one during their lessons to help put them at ease.
Beginners often find automatic cars are easier to control. That's because there are fewer things to remember, which creates less anxiety and makes the experience less stressful. This allows pupils to focus on controlling their speed and steering the car to quickly gain confidence on the road.
Discover more about our selection of automatic driving instructors in Thamesmead, London. Call us today on 020 8166 5678 or send us an email using the contact page.