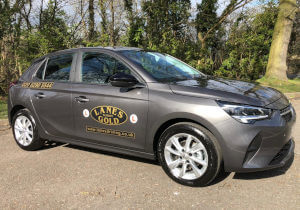 Before becoming the West Dulwich we know today, a number of royal owners owned the area before actor Edward Alleyn made it into a place renowned for educational excellence. This reputation is still in place today, with West Dulwich playing host to a number of high performing independent schools.
West Dulwich station provides regular train services that arrive in London Victoria in as little as 15 minutes. There is no local tube line and the best way for drivers to enter the area is via the A2199, which runs from north to south, or along the A205 which enters from east to west.
Driving Lessons in West Dulwich SE21
For anyone searching for a company that has a longstanding history and an unbeatable reputation for providing driving excellence, then Lanes School of Driving should be the first choice. We are now firmly established as one of the largest independent driving schools anywhere in the UK. Our history stretches all the way back to 1914, providing the people of West Dulwich with driving lessons in every type of car imaginable.
We want you to get the most out of your time spent learning with us. To ensure that happens, we can create tailored driving lessons that concentrate on your strengths and weaknesses.
Flexible appointments can be made to suit your lifestyle, either booking in weekly, regular lessons, or scheduling individual sessions to match your available spare time. All of our cars feature up-to-date technology so you are fully supported out on the road. To help you save time, you can also arrange for the instructor to pick you up and drop you off before and after each scheduled lesson.
Our ability to supply the very best one-on-one tuition is the main reason so many people pass their driving test with Lanes. This gives the pupil more confidence and helps them to learn from a trusted instructor much faster, leading them quickly towards their final test.
We have every type of driving lesson available in West Dulwich, London for booking right now by calling 020 8166 5678 or by emailing the contact page.
Driving Instructors in West Dulwich SE21
Our driving instructors are some of the most experienced out on the road, all of whom have spent years helping a wide range of age groups to feel comfortable behind the wheel. Learning from our DSA Approved Driving Instructors will give you confidence you are in good hands who will be able to provide the tuition you need to progress quickly through your lessons.
The vast majority of our instructors have received their training directly through Lanes. This offers a further guarantee that they have met the highest possible standards and have the knowledge to deal with any situation on the road.
We ensure you continue working with the same instructor in every lesson, enabling you to build up trust and confidence. In return, the instructor can create a lesson plan that concentrates on your ability and skillset.
Our driving instructors in West Dulwich, London can be booked today by calling 020 8166 5678 or by emailing via the contact page.
Female Driving Instructors in West Dulwich, SE21
We never want any female pupil to feel uncertain about working with a male instructor. Picking up new skills in front of any stranger can be a daunting experience and we want to minimise nerves wherever possible.
Female pupils can choose to work with a female instructor instead of a male one if it makes them feel less nervous. We aim to be as flexible and as accommodating as possible and this can help put many female students at ease. Female instructors are available in West Dulwich and will provide all the assurances women learners need to concentrate on becoming fantastic drivers.
Lanes' female driving instructors in West Dulwich, London are available for bookings today on 020 8166 5678 or simply email them via the contact page.
Automatic Driving Instructors in West Dulwich, SE21
With no gears to change, automatic cars make for an easier experience compared to manual vehicles. Over the years we've helped thousands of pupils progress through their tests using an automatic as on many occasions it can prove to be less stressful.
An automatic car won't stall or jolt when driving, making the driver feel more in control and safer on the streets of West Dulwich. That is vitally important to us and students can ask for an automatic anytime they need.
Automatic driving instructors in West Dulwich, London can be booked right now by calling 020 8166 5678 or emailing our contact page.