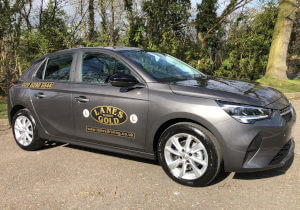 West Norwood can be found in the London Borough of Lambeth in south-east London. The name comes from the (Great) North Wood that used to cover North Surrey, stretching across Camberwell and Croydon. Today, locals regularly come together to enjoy the West Norwood Feast held every month, helping to sustain the wider community.
For commuters who need to travel into London for work, there four trains an hour heading into London Victoria and London Bridge, which are both 20-30 minutes away. By road, the A214 runs along the southern perimeter of West Norwood, while the A205 connects drivers to the northern tip of the district.
Driving Lessons in West Norwood, SE27
Lanes School of Driving is widely regarded as one of the best driving instruction schools in the UK. Not just because we have over 100 cars available in our fleet, or that we have been providing lessons since 1914. Pupils in West Norwood know that we take care of their needs from the first lesson until the last. We care about the wellbeing of our students, which is why they are so keen to recommend us to friends and family once they have passed their tests.
For learners to drive well they must not feel pressured or stressed behind the wheel. Creating the right environment for our students is something we specialise in, allowing them to learn while gaining more confidence every time.
Flexible lessons are available to suit your lifestyle. Whether you need a one-off lesson, or wish to book in weekly sessions, we'll put together a schedule that suits you. For added convenience, we can even pick you up and drop you off before and after every lesson.
All of our cars are modern and come complete with all the extras you'll need to have a successful lesson. You'll always receive dedicated, one-on-one tuition, getting the full attention of your chosen instructor without distraction.
You can find out all about driving lessons in West Norwood, London today by calling 020 8166 5678 or sending us an email from the contact page.
Driving Instructors in West Norwood, SE27
As well as being DSA Approved Driving Instructors, every member of our instructor team has been handpicked by Lanes. The combination of our expert training and their vast experience out on the road makes them one of the best group of driving instructors in the UK today.
The bond between instructor and student is vital to the success of each lesson. We understand that for many it is the first time they are sitting in a car and driving on the streets of West Norwood.
That's why we allow everyone to learn at their own pace to gradually build confidence in their own ability. You can pick the instructor you want to work with, and they'll remain with you until you reach your driving test.
Get access to our team of driving instructors in West Norwood, London by calling us today on 020 8166 5678 or email via the contact page.
Female Driving Instructors in West Norwood, SE27
There are occasions where female pupils can feel nervous or unsure about learning from a male instructor. To make things easier for women drivers, at Lanes they have the choice to work with a female instructor if it makes them feel more relaxed.
The experience of our female driving instructors is second to none. They will reassure and guide you every step of the way towards achieving your driving goals. We want every female pupil to feel unpressured and free to concentrate on being comfortable behind the wheel.
Our female driving instructors in West Norwood, London are waiting to hear from you today on 020 8166 5678 or email them via the contact page.
Automatic Driving Instructors in West Norwood, SE27
One of the main things that our 100 plus years of providing driving lessons has taught us is that drivers need choice. This is especially true when it comes to using an automatic car instead of a manual during their driving lessons.
Automatic cars are easier to learn in and will never stall out on the road. Pupils tend to feel less stressed as there is no need to change gears and they can focus on steering and learning from the advice being given by their instructor.
We have a fantastic selection of automatic driving instructors in West Norwood, London. Get in touch today on 020 8166 5678 or send us an email using the contact page.