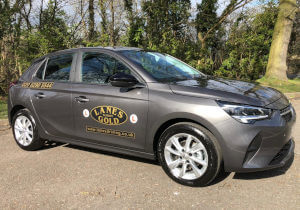 For more than 100 years, Lanes School of Driving has been teaching our pupils to drive safely and confidently. In this time our reputation has grown and we now have a recognised centre for excellence in driving instruction.
Every pupil is unique and our experience enables us to create a course tailored to their needs. Our intensive driving courses are perfect for those who want to learn quickly and we also make theory lessons available in different ways.
We make it possible for our pupils to learn even after they have passed their test. We offer a number of courses such as Advanced Driving, Pass Plus, Motorway Driving and Parking Skills.
We appreciate that finding the time to learn can be tricky for some. Our flexibility ensures our pupils can arrange lessons at a time that suits them. They can be taken regularly or as single lessons – we simply do not mind!
The fact that our pupils are given instruction on a one-to-one basis makes it easier for them to learn. They will receive the undivided attention of the instructor which enables them to deal with errors and target their strengths.
Pupils can be picked up before their lesson begins and then returned home following their lesson.
Driving Instructor in Kent
 Lanes is proud to have more than 40 instructors which makes it possible for our pupils to learn from an instructor that suits them. Our instructors have taught pupils of varying ages and people with different abilities. Those who are nervous are immediately reassured.
Every one of our instructors is highly qualified as an Approved Driving Instructor and all are registered with the DSA. As our pupils remain with the same instructor it enables both to become familiar with each other.
Female Driving Instructor in Kent
 Feeling anxious or nervous is common when learning to drive. Some female pupils may feel uncomfortable learning with a male instructor. At Lanes, we can offer the services of a female instructor if the pupil has this requirement.
All of our female instructors are qualified and are guaranteed to help their students learn without stress and worry.
Automatic Driving Instructor in Kent
 Some of our pupils find it easier to learn in an automatic car and some of them apprehensive learning in a manual car. An automatic car requires no gear changes or concerns over stalling which makes learning a far better experience for some. We often find that pupils learn at a faster pace in an automatic car.
Our experience and first class instructors in Kent help our pupils to get on the road fast. For more info call us on 020 8166 5678 or email us via our contact page.