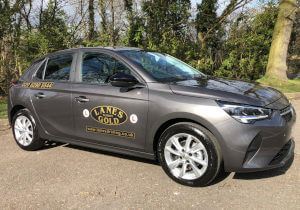 Just south of the River Thames, the Merton borough is home to Wimbledon's tournaments, bringing in national residents from all over the UK. Served by a host of national transport links such as London Underground and National Rail stations, as well as multiple Tramlink stops whilst also remaining accessible via the A24 and A297, travel into and away from the City of London is simple.
Driving Lessons in Merton, London, SM1
Established in 1914, Lanes School of Driving has developed the righteous title of one of the UK's largest independent driving schools, renowned throughout Merton, London for passing students of all ages and abilities for over a century.
Our qualified driving instructors are on hand to offer a range of services for drivers of all levels. Our most popular include single and block bookings, theory training and After Pass courses.
Our lessons are carried out in the newest model vehicles, allowing each pupil to learn with the highest-quality motoring technologies. To find out more about driving lessons in Merton, get in touch with a member of our Lanes School of Driving team by calling 020 8166 5678 or emailing .
Driving Instructor in Merton, London, SM1
With over 40 qualified driving instructors, there really is someone for everyone. No matter your age, ability or personal challenges, here at Lanes School of Driving, we can partner you with the best for your needs, allowing you to receive the most valuable support and guidance throughout the entirety of your lessons. The majority of our instructors decided to train with us originally, allowing them to become DVSA Approved Driving Instructors (ADI's), aiding pupils from 17 to 70 with confidence growth on the road, a key skill in safe driving.
With our team of fully qualified driving school instructors readily available for lessons in Merton, get in touch today. Give us a call on 020 8166 5678 or email us at and we will be happy to help.
Female Driving Instructor in Merton, London, SM1
Taking to the roads for the first time can be a daunting experience and we find that inexperienced pupils often face additional nerves when sat alongside a male driving instructor. That is why we have created a female driving instructor service, otherwise known as Lady Lanes.
To pass your driving test, you must feel relaxed and confident behind the wheel, and with the patience and gentle guidance provided by our fully qualified female driving instructors, that is exactly what you shall get. Achieve your licence with confidence with Lanes School of Driving.
To find out more about our Lady Lanes service or to speak to a member of our team about your driving fears, give us a call on 020 8166 5678 or email us at . We are here to help!
Ready to book? You can do that here!
Automatic Driving Instructor in Merton, London, SM1
Does the concept of multitasking behind the wheel intimidate you? No need to fear as, unlike other driving schools in Merton, Lanes provide automatic driving lessons. Driving can be a daunting task but we don't believe that fear or worry should ever limit someone's capabilities to get on the road. Our automatic driving instructors are fully qualified and ready to ease you onto the road with confidence.
To speak to our team about the benefits of automatic driving lessons in Merton, get in touch by calling 020 8166 5678 or emailing . You can also book in for your lessons now.