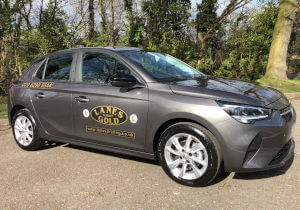 At the end of the Northern Line and bordered by the A24 and A232, the district of Morden is a highly popular southern location. Connecting to Merton Park and Wimbledon, Mitcham, Sutton and Worcester Park, Morden is a hub for locals throughout the south east, with a range of transport links to the north, south, east and west of the country. The location is brightened by the banks of River Wandle, running through Morden Hall – a National Trust park.
Driving Lessons in Morden, London, SM4
Having been established in 1914, our team of qualified Approved Driving Instructors (ADI's) have been successfully guiding learners in Morden through the learning process with one-to-one tuition for over a century. Our instructors are adaptable, ideal for students with busy schedules, and provide hassle-free lessons on a flexible basis, no matter your course.
Our tailored courses are available for drivers of all abilities and ages in Morden, from 17 to 70, and include:
Our team of instructors are ready to guide you into the world of safe driving. Get in touch today to find out more about any of our courses in Morden by calling 020 8166 5678 or emailing .
You can even go ahead and book your first driving lesson with us here:
Driving Instructor in Morden, London, SM4
For a large, dependable team of driving instructors, they don't come greater than ours at Lanes. With over 40 (and growing) ADIs available to aid pupils throughout Morden onto the road, each one is fully qualified – many having even taken their training with us! From manual to automatic vehicles, each pupil has the ability to select their instructor based on their own preferences and requirements.
Our instructors are adaptable to each individual learner and can tailor each driving lesson to ensure that you are collected and dropped-off at your chosen locations, be it your place of education, work or Morden property. With Lanes, you can guarantee that your lessons will involve one-to-one tuition – you will never have to share your vehicle with another pupil.
To find the ADI best suited to you for your lessons in Morden, get in touch today. Call us on 020 8166 5678 or email us at .
Female Driving Instructor in Morden, London, SM4
When it comes to sitting behind the wheel and taking to the roads of Morden for the first time, there will inevitably be apprehensive learners. Often, the element of learning to drive with a male instructor can be deemed as daunting, which is why we provide our Lady Lanes service, available to all pupils.
With their relaxed approach and gentle guidance, our fully qualified female instructors are ideal for calming those who may find the process overwhelming and can remain alongside their pupil for one-to-one tuition until they gain their driver's licence.
To arrange a driving lesson in Morden with one of our female driving instructors, give us a call on 020 8166 5678 or email us at today.
Automatic Driving Instructor in Morden, London, SM4
Unlike other driving schools throughout Morden, we offer the chance for locals of all ages and abilities to learn to drive. We understand that manual vehicles can be intimidating for learners, and so we provide the additional option of automatic driving lessons, granting everyone the opportunity to get onto the roads safely and confidently in Morden. Many learners have also found that they were able to pass their test faster than those within manual vehicles!
With over 100 years of humbling experience, trust in our team of experienced instructors to get you onto the roads of Morden. To find out more about our automatic driving lessons in Morden, give us a call on 020 8166 5678 or email us at and we will be happy to help.