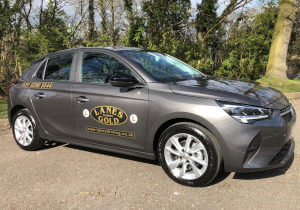 Orpington is a suburban town in the Borough of Bromley. It boasts the Walnuts Leisure Centre, a renowned sporting facility with a six-lane swimming pool. Orpington can be reached by car via the A20 and A21. Orpington is well served by public transport and Orpington railway station serves many routes in and out of London.
Driving Lessons in Orpington, Kent
Lanes school of driving was founded in 1914. Since then Lanes has been busy teaching locals to drive. From its early beginnings, Lanes has flourished to become one of the largest independent driving schools in the UK.  Lanes is famous for its uncompromising commitment to excellence in driving instruction, based on many years of experience. Lanes is aware that each student is different, and driving courses are calibrated to each individual's needs.
With Lanes, students can arrange bookings to suit their personal schedules. Lanes believes in allowing each student to learn at a pace at which they are comfortable. Lanes is notable amongst driving schools for insisting on providing one-to-one tuition so that students can progress unimpeded by the intrusions of other students in the car.
Lanes has a range of up to the minute cars fully equipped with the latest technology to provide students with every possible advantage in their learning experience. Instructors can be requested to pick students up from their front doorstep prior to each lesson.
Lanes have been providing driving lessons in Orpington, Kent for many years. Please call us today on 020 8166 5678 or click here to send us an email via the contact page.
Driving instructor in Orpington, Kent
Lanes has a team of experienced and highly qualified driving instructors available to all students. Each of the instructors is registered as a DSA Approved Driving Instructor. It is a testament to our company that the majority of our instructors began their early training with us. The instructor-student relationship is incredibly important and we provide each student with the same instructor for the whole of their driving course. From our experience this ensures that each instructor is familiar with the student's idiosyncrasies and is able to tailor the lesson accordingly.
Lanes have a team of driving instructors in Orpington, Kent. Please call us today on 020 8166 5678 or click here to send us an email via the contact page.
"I have very much enjoyed learning to drive with Bill. I started off as an extremely nervous driver who severely lacked confidence in my ability. Bill has been calm, encouraging and patient with me, something I greatly appreciated during every lesson which has enabled me to start believing in myself and my ability. His inherent calming nature each week gave me the confidence to tackle the driving obstacles which made me nervous, mainly roundabouts. I went from a very anxious driver to one who was more self-assured in their ability. One of the main things I liked was Bill gave me the opportunity to tell him what I wanted to focus on during each lesson. This was very helpful as it enabled me to focus on areas during my lesson that I was struggling with. Also, as it got closer to my test Bill began each lesson with us driving over to the test centre road. This was also helpful to me as on my test it meant I already knew the area and it was not so daunting. Bill is an amazing instructor who I would recommend to anyone who is thinking of learning to drive."
Katie Green
Female Driving Instructor in Orpington, Kent
For many students, learning to drive is daunting and intimidating. We find that some women students would rather not have a male driving instructor. We are sympathetic and we allow women students to specify a female driving instructor. Our female driving instructors are notably calm and unjudgemental. They will not pressure students or make them feel uneasy. Our female students invariably enjoy the relaxed learning experience when provided with a female instructor.
Lanes have a selection of female driving instructors in Chislehurst, Kent. Please call us today on 020 8166 5678 or click here to send us an email via the contact page.
Automatic Driving Instructor in Orpington, Kent
A proportion of Lanes' students decide to learn in an automatic car rather than a manual car. On the one hand, manual cars allow the driver more control. On the other hand, automatic cars are less complicated to drive and less intimidating for the beginner. Stalling the car is a big problem area for beginners. They will be relieved to know that it is impossible to stall an automatic car. Automatic cars are less stressful to deal with for the beginner driver, and learning will be much less difficult.
Lanes have a selection of automatic driving instructors in Orpington, Kent. Please call us today on 020 8166 5678 or click here to send us an email via the contact page.