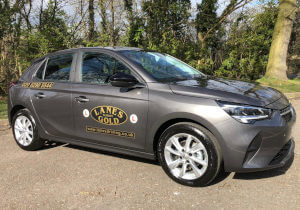 We accepted our very first driving pupil in 1914, following which time we have gone from strength to strength, growing almost exclusively through word of mouth referrals alone. Today, we are regarded as a centre of driving excellence.
Since our very first learner, we've always treated each of our pupils as unique individuals, for which reason we offer customised lessons, and one-to-one instruction. You'll always see the same instructor who is experienced, DSA registered and certified as an Approved Driving Instructor.
We offer intensive driving courses; standalone or integrated theory lessons; and courses beyond the driving test pass (these include: Motorway Driving, Advanced Driving, Pass Plus and Parking Skills).
We also understand that life can be hectic. Whilst one week you may be able to take a lesson on a certain day, at a certain time, the next week you may need a different time and/or day. We allow our learners to choose how they wish to book, and when they want to take their lessons.
 Ready to book your first driving lesson in Shirley, CR0, CR9? Get on the road to passing your test, call our team on 020 8166 5678 or get in touch through our contact page to book in.
Driving Instructor in Shirley, CR0, CR9
Lanes School of Driving instructors have a fleet of high quality vehicles at their disposal – each of which meets our high-quality standards.
Our driving instructors are adept at putting their pupils at ease and helping them overcome their nerves; they'll also quickly come to understand the best method of teaching you and recognise any particularly tricky driving tasks that you may be struggling with.
Your driving instructor will meet you at a place convenient to you (whether at home, at work or elsewhere) and will also drop you off.
Book your lesson with one of our 40 experienced driving instructors in Shirley, CR0, CR9 – phone on 020 8166 5678 or visit thecontact page.
Female Driving Instructor in Shirley, CR0, CR9
Almost every new learner experiences nerves when it comes to those first few driving lessons, and for some females we know that a male instructor can add to their anxieties.
Our female instructors are informal, laid-back and helpful, ensuring that you take to learning quickly and that your nerves soon become a thing of the past.
Lanes have several female driving instructors in Shirley, CR0, CR9. Simply give us a call and we'll get your first driving lesson booked in – 020 8166 5678; alternatively, you can send a message through our contact form.
Automatic Driving Instructor in Shirley, CR0, CR9
We frequently receive enquiries about learning to drive in an automatic vehicle; should you be considering this option then we can more than look after you.
We have several high quality automatic vehicles and numerous instructors who have years of experience instructing pupils in automatic cars. We find that learners often take much more quickly to this form of learning, and whilst manual cars are reported to provide more control, the opposite argument is that automatics do away with both the potential of stalling and the need to master gear changes.
Take the first step toward your licence, book one of our automatic driving instructors in Shirley, CR0, CR9, today. Call our team on020 8166 5678. Alternatively, you can book or send a message over on our contact page.