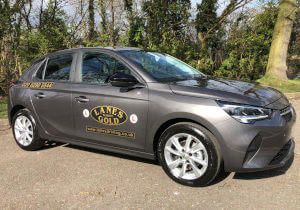 The very first Lanes School of Driving pupil set off on their initial journey in 1914. Some 100 years later, and we are now a driving school with an exceptional track record.
Each of our pupils are unique and so we provide courses that are tailored to each individual's needs. We offer an array of different courses, which includes an intensive course for students who wish to gain their licence quickly, as well as traditional lessons which can be taken at the same time each week, or at different times as according to the learner's schedule.
The theory element of your licence can be completed as a standalone course, or we can complete the lessons as you take your practical sessions. Further optional courses beyond the passing of the driving test include: Pass Plus, Parking Skills, Advanced Driving and Motorway Driving.
With Lanes, you only ever receive undivided attention; with one-to-one learning, your instructor can help you overcome hurdles and advance as fast as possible. Your instructor will happily pick you up and drop you off.
The Lanes fleet is made up of vehicles that are each of the same quality as the last. We currently have Minis ready to set out for lessons.
Ready to book your first driving lesson in Streatham, SW16? Get on the road to passing your test, call our team on 020 8166 5678 or get in touch by using our contact page to book in.
Driving Instructor in Streatham, SW16
With a large team of 40 driving instructors, you're able to select the one right for your needs. Each of our professionals have many years' experience in their role and have taught learners of many ages (from seventeen to over seventy).
Each is DSA registered, qualified as an Approved Driving Instructor and proficient at helping calm nerves so that their pupils can concentrate on the road ahead and task at hand.
Learn to drive with one of our 40 professional driving instructors in Shirley, CR0, CR9 – phone us on 020 8166 5678 or visit ourcontact page.
Female Driving Instructor in Streatham, SW16
Almost every student we've instructed has felt worried about learning to drive. For female learners, this can sometimes feel even more of an intimidating journey when they must be instructed by a male.
Our female instructors offer lessons that are informal and relaxed; they are well known for ensuring that their pupils feel at ease (all of which is essential for effective learning).
Our driving school team includes numerous female driving instructors in Streatham, SW16. Get in touch and we'll book you in –020 8166 5678; or use our contact form.
Automatic Driving Instructor in Streatham, SW16
For the typical learner, manual gears are tricky to perfect and the problem of stalling is a tough one to overcome. Whilst manual vehicles may offer you greater control when driving, it is undeniable that automatics represent the easy alternative (and as such, are often quicker to learn in).
Lanes offer automatic instruction – whatever the reason you've chosen to learn in an automatic vehicle.
Start working toward passing your test, book one of our automatic driving instructors in Streatham, SW16. Call our team on 020 8166 5678. Alternatively, you can book or send a message over on our contact page.