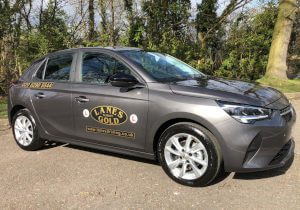 When choosing a driving school, you need to be confident that the company you choose has a reputation for quality lessons. For those based in Upper Norwood, Lanes makes for a promising choice. With more than a century of instructing students, today most our pupils are introduced to us through happy, previous customers who have now passed.
Our lesson timetables are versatile – you can book in on the day you wish, at any time you wish (and we can alter your lesson day and time each week; this is especially helpful for our busier pupils). We'll also come to you, and drop you off where you wish.
For pupils who are hoping to pass their driving test in as short a time-period as they can, our intensive course proves a popular choice. We also offer theory test lessons delivered as an individual group of lessons, or as part of your normal, weekly lessons.
Lanes School of Driving are here for pupils beyond the nerve-wracking test day, with instructing that helps develop more advanced, specialised skills; these courses include: Pass Plus, Motorway Driving, Advanced Driving and Parking Skills.
Throughout our years in this industry, we've understood that pupils advance their driving skills when granted the complete attention from an instructor; for this reason, you'll never share your lesson with another pupil.
Our absolute commitment to a superior pupil experience extends to our vehicles, which are robustly maintained and modern. To exemplify this, our instructors are currently helping pupils to learn in models such as a range of Minis.
Get into first gear quickly, book your driving lesson in Upper Norwood, SE19 with our team. Call on 020 8166 5678 or send a message through the contact page.
Driving Instructor in Upper Norwood, SE19
Our team of instructors are each DSA registered Approved Driving instructors; they enjoy getting to know their pupils and helping them tackle any driving tasks that they are struggling to master to test level. You'll only ever see the same instructor – one who has an excellent track record, much experience and an ability to address any nerves that could be impacting their performance and progression.
Lanes School of Driving have helped pupils of every age advance to a pass, from seventeen up to and over seventy.
With more than 40 experienced driving instructors in Upper Norwood, SE19, we'll get you onto the roads quickly – phone on 020 8166 5678 or visit the contact page.
Female Driving Instructor in Upper Norwood, SE19
Let's face it – the thought of taking your very first lesson is probably filling you with mild dread. This fear is almost universal, however we know that some females can feel even more nervous when under instruction from a male.
If this resonates with you, rest assured that Lanes have a selection of tried, tested and trusted female instructors; they create a positive atmosphere and can almost instantly help you address your nervousness.
Our team of female driving instructors in Upper Norwood, SE19 are ready whenever you are. Just give us a call to book your lesson – 020 8166 5678; alternatively, you can also send a message through our contact form.
Automatic Driving Instructor in Upper Norwood, SE19
The debate between automatic and manual cars is a timeless one. On the one hand, learners benefit from better control once they've mastered the gears and battled with the problem of stalling, whilst on the other, automatics are simpler and more straightforward to get to grips with. If you've decided that learning in an automatic is right for you, Lanes offers a choice of vehicles and instructors who are experienced teaching in this type of vehicle.
Call our team on 020 8166 5678 to book a Lanes automatic driving instructor in Upper Norwood, SE19. Alternatively, you can book or send a message over on our contact page.