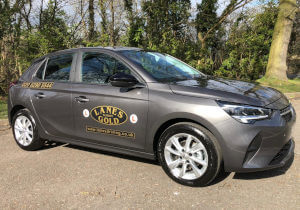 Since 1914, Lanes School of Driving has helped pupils of all ages in getting on the roads, swiftly and safely. More than one hundred years later, and we have more students than ever before – testament to our reputation for exceptional learning experiences.
Lanes believe that learning should be individual to each pupil and we alter our approach accordingly. This includes theory lessons that can be set aside individually, or taught during your practical lessons. We offer one-on-one tuition for effective feedback and quickly addressing tricky issues.
For pupils who wish to learn as fast as possible, we provide an intensive course with longer lessons booked in closer together; what's more, once you've passed, this may not be the end of the road for your learning, as we also offer Motorway Driving, Advanced Driving, Pass Plus and Parking Skills courses.
Your instructor can collect you and drop you off, and can book you in for lessons on the same day and time each week, or at different times and days should your schedule change often.
Call on 020 8166 5678 to book your driving lessons in Elmers End, SE25. You can also book or send your questions via ourcontact page.
Driving Instructor in Elmers End, SE25
Our school has over 40 instructors – each of whom are DSA registered and fully qualified as Approved Driving Instructors. Every Lanes School of Driving pupil looks forward to seeing the same instructor from the very first lesson onto the moment they pass their test – this allows our experts to learn about their pupils' learning styles, habits and current driving challenges.
We look after pupils of every age, from 17 and upwards and we always put our learners at ease.
Book in with our experienced team of driving instructors in Elmers End, SE25. You can call us via 020 8166 5678 or contact us through our contact page.
Female Driving Instructor in Elmers End, SE25
Learning to drive is a challenge, and one that our pupils often feel nervous over. For our female pupils, a male instructor can make this experience one that's even more intimidating.
Our female driving instructors are encouraging and kind in equal measure – they ensure that their pupils are relaxed and ready to confidently take to the wheel.
For an experienced, friendly and professional female driving instructor in Elmers End, SE25 call our office on 020 8166 5678 to book your lesson. Feel free to also send a message through our contact page.
Automatic Driving Instructor in Elmers End, SE25
Cars that feature manual gears can be said to offer more control, however as a driving school we regularly receive enquiries from learners who wish to drive an automatic. Such vehicles overcome the age-old learner problem of stalling and we also find that pupils progress more quickly.
Our fleet includes several automatic vehicles, and our instructors are experienced in helping pupils advance in automatic vehicles quickly.
With several expert automatic driving instructors in Elmers End, SE25, we're ready to get started whenever you're ready – call us on 020 8166 5678. You can also book or enquire via the contact page.