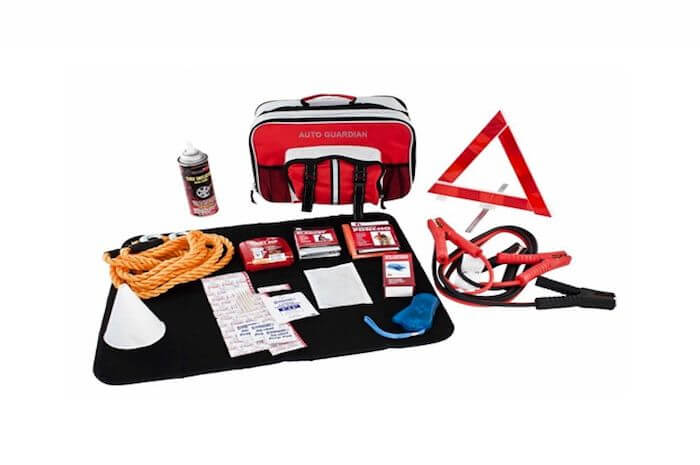 Winter brings with it uncertainties and dangers when it comes to driving, particularly if weather conditions are poor. While we often have plenty of notice from forecasters when winter storms, icy conditions, or snow are expected the reality is that it can take a turn suddenly and unexpectedly. Our cars can also let us down, leaving us stranded in the cold and dark – whether through a flat tyre or a mechanical problem. With winter in full swing, we take a look at what you should have in your car during the colder months to help keep you safe and warm should the worst happen and you find yourself in a broken-down vehicle in poor conditions.
Standard kit
We advise having the following in the boot of your car all year round no matter what the weather:
A first-aid kit. Include some sterile wipes, plasters, gloves, and a resuscitation face protector.
Jump start cables. Even if you don't need them, you may be able to help someone who does.
Food. Long-life products such as cereal bars are ideal. High-calorie foods for winter, such as chocolate, are also useful. They can all come in handy if you are stuck waiting for road-side assistance, particularly if you have hungry little ones in the car with you.
Empty fuel can. You just never know when you run out – either because you were unable to find a petrol station in time or because your fuel gauge has let you down.
Reflective warning triangles. Ideally, you should have two, one for the front and one for behind the vehicle. While they may not be required by law in the UK, they are in many European countries and it is good practice to have them in your car. Remember though, that they shouldn't be used on motorways.
A map. Your sat-nav may be out of range, your mobile phone battery may be out of juice… An old-fashioned map is perfect for helping you find your way again if you are lost.
In-phone charger and spare battery. To help reduce the chances of running out of battery on your mobile when you need it most or to be able to keep the sat-nav working.
Torch. It's a good idea to have a wind-up torch so that you don't have to worry about batteries, but if you don't have one of those remember to pack some spare batteries as well. It could come in very handy if you have to change a flat tyre in the dark.
High-visibility jacket. If you need to leave your vehicle in the dark, it is good to make yourself as visible as possible to other passing motorists to avoid potential accidents, particularly on darker country roads.
Winter kit
In addition to the standard kit, we recommend adding the following during winter time and when you are on a longer journey during the colder months:
Ice scraper and de-icer. If you do end up stranded and your windscreen or rear window have frosted up you will need to clear them before setting off again – it is a legal requirement to keep them clear.
A shovel. Useful for digging your way out of deep snow on smaller, untreated roads.
Hot drinks. A flask with a hot drink can be a life-saver in cold conditions – it could be tea, coffee, hot chocolate, or soup, whatever will keep you warm.
Blankets or warm clothes. If you break down, you won't know how long you may have to wait for help and keeping the engine running and the heat on is not practical.
No one wants to break down or end up stranded but being prepared can make the experience a lot less unpleasant. If you have any questions around driving in challenging conditions, need a refresher course, or are looking to get your driver's licence talk to our team at Lanes School of Driving. Just call us on 020 8166 5678 and we'll have you feeling confident on the road in no time.