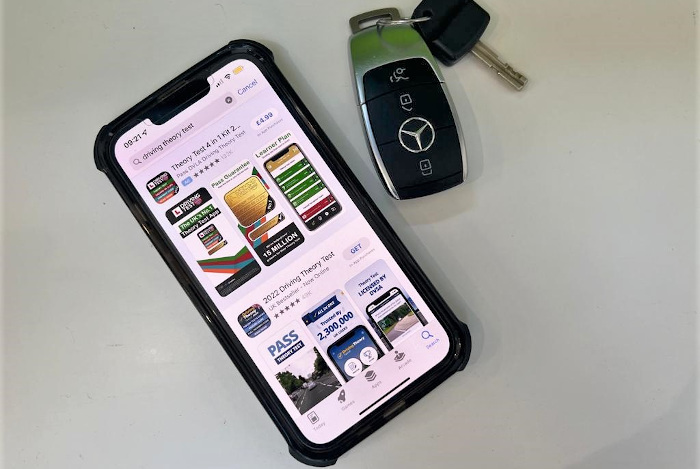 The top 5 theory test apps in 2022
We all know that learning to drive can be a tricky experience. Along with the novelty of getting behind the wheel, there's the theory test to pass… The experts recommend 20 hours of revision before you attempt to take your theory test to ensure you have all the knowledge locked in your brain! The added pressure of a timed theory test could seem daunting, which is why downloading theory test apps to help you learn the ways of the road could save the day. But which ones are the best…?
Driving Test Success 2022 4 in 1 Kit
This app promises a first-time theory test pass, or your test fee money back! Available on Android and iOS app stores at a cost of £4.99, you have the ability to test yourself on 85 hazard perception clips, the 2022 Highway Code, UK road signs and theory test questions. The app will monitor and track your progress over time, allowing you to be aware of your results and know when you are ready to take the test… The app also contains bonus content uncommon across others. This feature informs you of the 10 top ways to avoid failing your practical test, as well as additional exclusive offers. This app has a pass rate of an enormous 97%. Say hello to driving test success!
Official DVSA Theory Test Kit
Having been created by the DVSA themselves, you can rely on this app to be 100% accurate – a reason why it remains so popular amongst learner drivers. Available across iOS and Android, the app comes at a price of £4.99, but those will be pennies well spent as you will be able to revise and test your knowledge with multiple choice questions before sitting accurate practice tests. The questions throughout the app mirror the ones you can expect on the real test with slightly alternate wording, as well as 34 CGI hazard perception videos and the ability to revise the Highway Code. The app will also send you helpful and encouraging reminders as your real test date approaches!
Driving Theory Test UK 2022
This app offers a free trial, before paying a price of £3.99. This cost will allow you the options to listen to, as well as read, the questions you are attempting to answer, and revise the Highway Code in their accompanying app, also included in the price. Available across Android and iOS app stores, you will have the options to both revise the questions and sit a mock test, ensuring that you are ready to pass your theory test in no time. This app has intelligent learning systems to take into account your past scores and the topics you need more practice on.
2022 Driving Theory Test UK
This app, available on iOS 13.0 or later, offers you a free trial allowing you to revise sections of the updated 2022 Highway Code, exam questions, all UK road signs and participate in hazard perception videos. This is accompanied by a cheat detection software, encouraging you to be truthful to yourself! You can then purchase the full app at a price of £4.99, unlocking the remainder of the questions within each section. The app also works offline, allowing you to practice whilst on the move.
Driving Theory Test Genie UK
This driving theory test app is based on information from the official 2022 Highway Code manual. It includes 725 questions that are written based on this updated manual, meaning that there are no surprises when you get to the real test! The app provides theory test revision questions, detailed explanations and varying difficulty levels so that you can control your own progress. There are new questions every time you enter the app, to keep you on your toes! This also works offline so that you can inch closer to your practical driving test every day, without worrying about Wi-Fi!
Top tips for passing your theory test
As well as practicing on your theory test app for the big day, there are a number of tips you can follow to ensure a good result!
Book in advance
Booking your theory test in advance will give you an incentive to do the revision. A deadline could give you just the right amount of pressure to make sure you open up that app and work through the multiple choice questions on a regular basis.
Pay attention when travelling
Whether you're on the bus or a passenger in a car, consistently pay attention to the road. Observe how cars go over roundabouts and the road signs that are sprinkled along your journey – this will also help you with hazard perception!
Take regular mock tests
Mock tests are the best way of monitoring your progress. The more you do these tests, the more prepared you will feel for the real theory test. Confidence will help you on the day of your test, along with being as ready as possible.
On the day… take your time
For your test, you will be given 57 minutes to answer 50 questions. Make the most of this time and consider each question carefully – rushing could mean that you miss the details in a question, resulting in the wrong answer!
On the day… flag the hard questions
If you find a question particularly difficult, there is a feature on the test technology which lets you flag the question, and come back to it at the end. This ensures you have enough time to complete the test, and give the question more attention.
After you've passed your theory test, your practical driving test will be looming. Give yourself the best chance you can at becoming a proficient car driver, and invest in lessons from Lanes School of Driving! Our experienced instructors will ensure you're safe on the roads and feel confident behind the wheel. Give us a call on 020 8166 5678 or email us at .