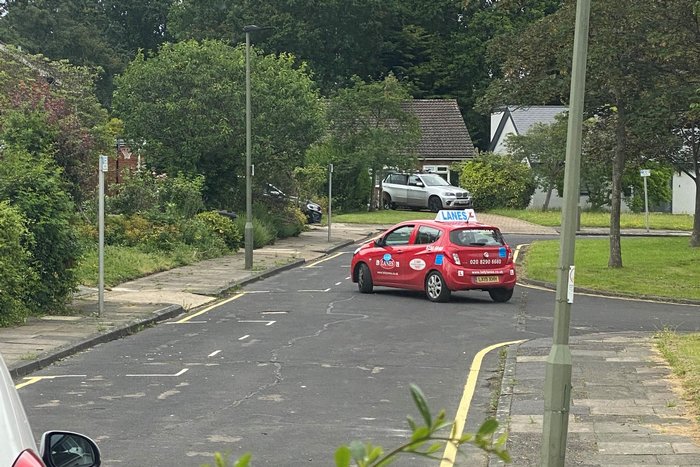 Getting to know your test centre before the anticipated test day will let you feel more comfortable when it comes to walking through the door. If your local test centre is West Wickham, you're in luck. We have all the insider information about West Wickham test centre that will put your mind at peace! Keep reading for everything you need to know about completing your test on the West Wickham routes.
Where will you find the test centre?
West Wickham test centre is located on 56 Glebe Way, West Wickham, London, BR4 0RL. Nestled between L'Image Hair and Artlines Outlines Art Shop, the test centre is clearly signposted so that there is no danger of you missing it. Unfortunately, there is no disabled access at the moment, and there is also nowhere to park. However, it is easy to get to and arrangements can be made for candidates with a disability.
How do you get to West Wickham test centre?
Glebe Way is on the A232, meaning that the test centre is extremely easy to get to from throughout West Wickham. There are various bus routes leading to and from West Wickham, such as 119, 194, and 138. This should make it simple for you to get to the test centre. West Wickham train station is also just a 12-minute walk away.
Driving in West Wickham
West Wickham is often used as a location for learner drivers in South East London. This is due to its variety of roads – you can be enjoying the quiet, wide open roads one minute and navigating a tricky roundabout the next! This gives the necessary experience to be able to get to the testing standard, and if you have driven around the area during your practice time, you're bound to feel more confident during the real thing.
What possible routes are there?
There are many routes that your driving test examiner could take you on. Unfortunately, you won't know the exact route until the moment you are in the car, and we can't offer specific information! However, many routes have been known to travel through Braemar Gardens and onto the roundabout on Ravenswood Crescent and Manor Park Road, or venturing onto Croydon Road and Addington Road.
What can you expect on the day?
When the dreaded test day is approaching, you might be wondering what you can expect when you arrive. You should arrive five minutes before the time your test is allocated for to ensure you aren't stressing – don't be late! Driving tests from the West Wickham centre are expected to be 30-40 minutes long, and around 10 minutes of this can be independent driving.
The residential roads around West Wickham are often used to test your abilities for manoeuvres. The wide nature of these roads gives you the freedom to carry out your manoeuvres in relative privacy, as the roads are often quiet. You can expect:
An eyesight test – your examiner will ask you to read a number plate around 20 metres away
'Show me, tell me' questions – two questions to test your knowledge on vehicle safety
General driving with manoeuvres – parallel parking, bay parking, or pulling up on the right
Independent driving – this will either use the sat nav or signposts to reach a destination
The end of the test will see you safely back at West Wickham test centre, where hopefully you will receive that long-awaited certificate!
How to book your driving test
Booking your driving test is easy. You have to have completed your theory test before you can book your practical assessment, but after this stage has been passed all you have to do is check the government website for test availability. If West Wickham is low in availability, you could also consider test centres such as Bromley and Croydon.
If you think you may need some extra lessons before your assessment at West Wickham, come to Lanes School of Driving. Our block lessons or intensive courses can get you up to scratch and help you achieve that 'pass' status. Contact us on 020 8166 5678 or email us at .