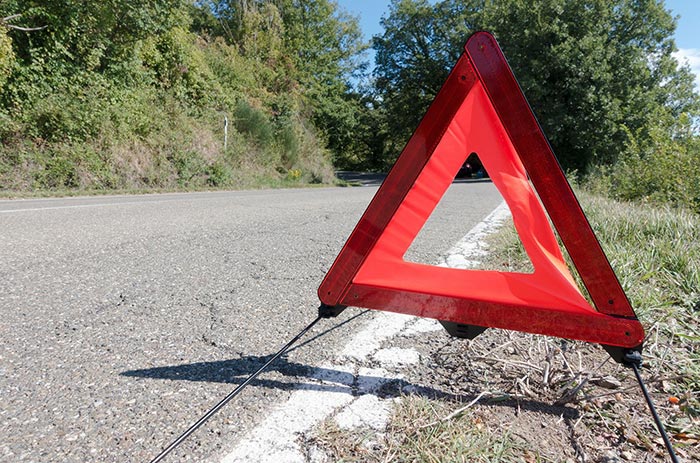 In the unlikely but possible event that you breakdown, an emergency breakdown kit can be vital in keeping you and your passengers safe whilst waiting for roadside assistance. Although these kits are available to buy, many drivers find that they already own the required items and so find it simple to create their own. Within or alongside your emergency breakdown kit, you should also assemble a first aid kit. In this month's blog, we run through the items that you should pack within these to keep you safe whilst on the road.
Emergency breakdown kit
Within your emergency breakdown kit, you should stock the following items:
High visibility vests or clothing, allowing you to be seen by other road users no matter the hour
A torch with spare batteries, allowing you to see your surroundings and vehicle
A hazard warning triangle which can be placed around 10 paces behind your vehicle, alerting other drivers of the oncoming hazard
Tissues or paper towels, allowing you to clear any fluid or oil spillages on your skin or vehicle
A bottle of engine coolant, allowing you to cool an overheated engine
A foot pump or puncture spray, allowing you to temporarily repair pressure loss or a puncture within your tyres
Warm, waterproof clothing and shoes, allowing you to remain as warm and dry as possible whilst standing a safe distance from the roadside. A blanket would also come in useful in such an event.
Bottled water and packaged food, allowing you to replenish your hunger or thirst whilst waiting for roadside recovery
A spare phone charger, allowing you to charge your phone in a nearby service station, shop or café to contact and wait for assistance
A shovel is particularly useful in winter months as, if stuck in snow, you can dig small slopes infront of your front two wheels that can help you to drive out
Emergency first aid kit
Your emergency breakdown kit should include a visible, easy to reach first aid kit within its own sterile compartment or bag. You may require this whilst on the move – it doesn't necessarily have to be saved for use during a breakdown. Within this, you should have:
Plasters to protect and cover wounds or scratches
Anti-septic wipes to clean any wounds or open injuries as well as medical equipment before use
Disposable gloves to protect yourself and the injured person from infection
Tweezers to remove any items safely and effectively from within the skin, such as splinters or glass
Sterile eye wash and dressings to clean the eye effectively and prevent any ongoing injury or risk
Sterile gauze swabs of multiple sizes to clean and dry wounded areas
Medical tape to secure gauzes and bandages
Painkillers to fend off a aches and pains whilst on the road
The idea of breaking down can often be scary, but with the right preparation, there needn't be a reason to fear. For more advice on packing your emergency kits, get in touch with our team who will be happy to help. Give us a call at Lanes School of Driving on 020 8166 5678 or email us at . Having successfully passed pupils for over 100 years, we have the humbled experience that allows us to help drivers with every requirement.