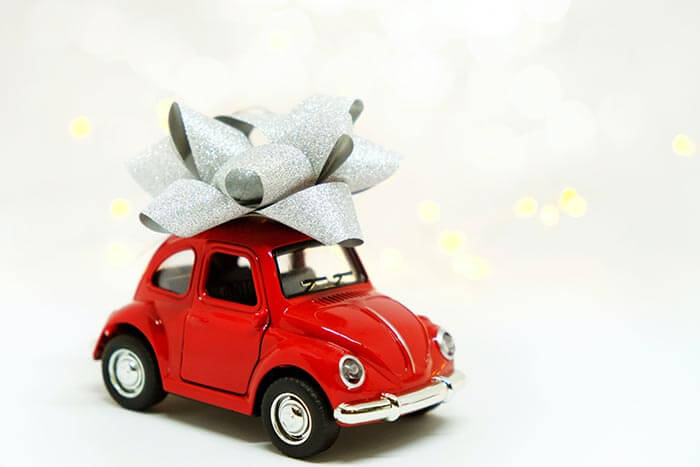 With Christmas just around the corner, we feel it's the perfect time to give you some great stocking filler and gift ideas for any up and coming learner drivers within your family or friendship circle. Learning to drive can often be nerve wracking experience, so why not ease their minds and give them something positive at this fitting occasion!
A 'just in case' box
A safety kit is always a necessity when taking to the roads but can often seem daunting due to its name and requirement. Why not create the same kit but disguise it as a 'just in case' box, filling it with all necessary things needed, just in case of a roadside breakdown. Items such as a blanket for warmth, a bottle of water for hydration, a torch in case of low lighting, some gloves incase of having to handle oily car parts and a portable phone charger incase of a flat phone battery would be highly beneficial to any new driver, as well as greatly appreciated – just in case!
Covering learning costs
If you are gifting to someone who is expected to begin driving lessons in the new year, why not treat them to their first lesson, or explain that the first months' worth are on you. This could allow them the opportunity to begin learning sooner than they had initially planned. This gift also applies to those who are already in the middle of learning and can act as an unexpected treat that saves them some pounds in the new year.
Covering test costs
When it comes to the latter half of learning to drive, test costs can be a hefty price to pay. Offering to cover the costs of a learner's theory and/or practical driving tests will not only be a highly generous gesture, but can also show that you have a level of faith in them passing, boosting their confidence for the test period ahead.
Gift a sat-nav
As a new feature of the practical test, gifting a learner driver a sat-nav will allow them to practice driving alongside route guidance before sitting the practical test, allowing them to feel comfortable under examination circumstances and quite possibly resulting in a relaxed test and faster pass.
A learner-focused stocking
Stockings are always fun to receive at Christmas time, with a mixture of cheap but cheerful gifts or snacks inside. This year, why not create a stocking filled with learner-related gifts, such as a pair of L-plate socks, an L-Plate mug and even the L-Plates themselves! You also bear the option to wrap it all in festive L-Plate wrapping paper!
After-pass courses
If your learner has just passed their driving test, (congratulations to them!) why not consider booking them onto an after-pass course. Here at Lanes School of Driving, we have a series of suitable courses for drivers of any age and level of experience once they have received their full drivers' license. These include, but are not limited to Pass Plus, motorway driving lessons, parking skills and refresher courses. To find out more about the courses we provide, take a look at out after-pass courses.
If you would like to find out more information on the after pass courses we have here at Lanes School of Driving, or to talk with a member of our team about any driving queries or concerns, do not hesitate to get in touch. With over 100 years in passing learner drivers first time, we are here to lend an experienced and knowledgeable hand. Give us a call on 020 8166 5678 or drop us an email at and we will get back to you.