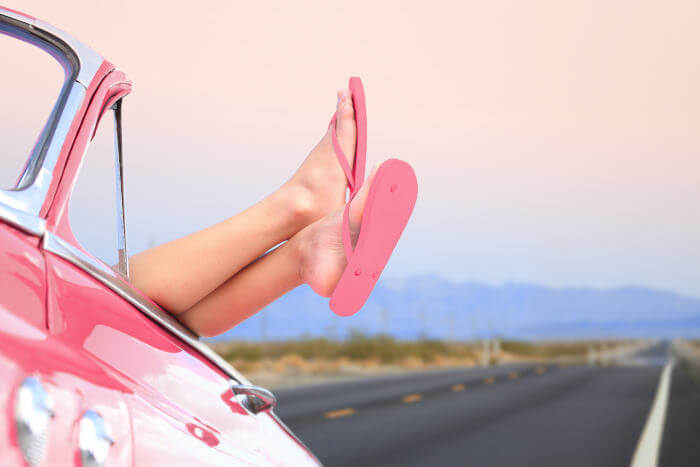 With the sun appearing once again, your winter shoes are being placed into the depths of your wardrobe and the summer footwear is coming back out, as is that lingering rumour that your choice of footwear could be classed as an illegal offence. To avoid confusion, we explain the facts behind your choice of footwear so that you are able to drive safely whilst complying with the law.
What is the law?
Well, technically there is no law against wearing your summer sandals or flip flops whilst driving. Rule 97 of the Highway Code states that the driver should make sure that their choice of footwear doesn't prevent them from using the cars controls in the right manner. If you are certain that your shoes do not interfere with the break, acceleration or clutch pedals at any point, you are considered safe to wear them. You could even drive barefooted if it remains safe to do so, however, we do not recommend this.
Despite the above, there is a time where this would be classed as an illegal offence and cause you a fine of up to £5,000. If your feet are wet or slippery, you will be unable to have authority over the car's controls, resulting in you putting your passengers and other road users at risk. This would count in instances where you are driving with flip flops, sandals or barefooted.
Things to consider
If you believe that you can control your car perfectly in your summer shoes, there are still some things to test out before taking to the road.
Check your soles. You will want to find the balance between too thick and too thin. If the soles are too thick, you will be unable to feel the pedals, resulting in you losing control of the car. In addition, you don't want them to be too thin or flimsy either, as the rigid grip on the pedals could cause pain or blisters to appear on the soles of your feet, generating unsafe driving.
Check the grip. Your shoes should have enough grip on the soles to work together with the grips on the surface of the pedals, allowing you to be in control of the car and preventing your feet from slipping off unwantedly.
Check the weight. If your shoes are too heavy or stop your ankles from moving freely, such as working boots or wellies, having the ability to quickly and lightly apply pressure to the correct pedal will be jeopardised. Your shoes will need to be light enough for you to be able to act fast but delicately.
Check the width. Some shoes, including flip flops, are wide enough to touch, press or catch on other pedals. This is a risk too big to take, so stick with a choice of footwear that moulds around your foot.
It is important to remember that, as a driver, you have a large responsibility to keep yourself, your passengers and other road users safe. If you are considering driving whilst wearing shoes which you believe would be considered as unsafe, no matter how short your journey, change them to something more suitable. For drivers, it's a case of safety before fashion!
If you are looking for some expert advice, get in touch with our friendly team of Lanes School of Driving instructors by calling 020 8166 5678. With over 100 years of experience, we will be happy to advise you on the safest way to drive your car this spring.